A Valentine's Day for the Economically Depressed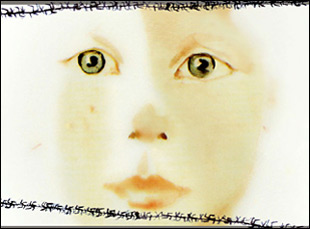 Posted by Neil Pedley on
This Valentine's Day weekend, there's plenty to make you want to clutch your significant other tight in the dark — Isla Fisher wields a credit card, Jason Voorhees puts on his hockey mask one more time and Clive Owen is the quite ridiculous vessel for an entire nation's displaced rage.
"As Seen Through These Eyes"
In the works for ten painstaking years, writer/director Hilary Helstein's debut feature achieves its noble goal — to tell, in her words, "an uplifting story about the Holocaust" — by focusing on concentration camp prisoners who made the best of their limited resources and created artwork, many of whom survived the horrors to go on and become internationally recognized artists. Mixing archival footage with candid testimony from the survivors, Helstein presents these remarkable people and their equally remarkable work — music, art, poetry — that served then as it served now, as a testament to the indomitable nature of the human spirit. Maya Angelou narrates.
Opens in New York.
"Confessions of a Shopaholic"
On a Valentine's Day weekend when concession stand employees will be asking couples "What size popcorn? Large, regular or, just been laid off?", this candy-coated wish-fulfillment fantasy arrives to remind us all just how we came to be where we are. Aussie director and rom-com veteran P.J. Hogan (of both "Muriel's-" and "My Best Friend's Wedding") helms this smartly dressed adaptation of Sophie Kinsella's chick-lit odyssey with Isla Fisher as Becky, the compulsive spender clutching a Visa bill the size of a phone book. Having landed a job writing a financial advice column, Becky resolves to pay off her mountain of debt and in the process discovers that materialism is a fallacy and what matters is that you learn to love yourself. Of course, having a job at a prestigious New York magazine owned by an absurdly wealthy guy who happens to be quite into you doesn't hurt either.
Opens wide.
"Friday the 13th"
With an unparalleled pedigree in the making of first-rate cinematic pap, German music video director Marcus Nispel (of "The Texas Chainsaw Massacre" remake) returns to deliver the latest incarnation of cinema's most enduring psycho with a script from the guys behind "Freddy Vs Jason." Looking like they just walked off an ad for United Colors of Benetton, a group of blissfully unaware teenagers arrive at the now-deserted Camp Crystal Lake for a night of unsupervised revelry. Jason and his trusty machete, as always, are only too happy to oblige. With executive producer Michael Bay acting as the adult voice of reason, we can only imagine what terrors await them, or us, for that matter.
Opens wide.
"Gomorrah"
After 70 years of big-screen organized crime romanticism, Matteo Garrone's docudrama (adapted from Roberto Saviano's exposé of Naples' Camorra crime syndicate) will likely serve as a wake-up call for audiences used to viewing the mafia through Hollywood rose-tinted lenses as a principled organization that rewards loyalty and honor. Billed as an example of hyperlink cinema (a trendy, Web-conscious way to describe interwoven, disparate storytelling), "Gomorrah" had critics falling over themselves to praise its audacity, with some even heralding a new era for the mob movie. Employing mostly non-professional actors and even a few actual criminals, Garrone orchestrates five intertwined stories touching on the deadly organization that runs Naples and how their actions affect the daily lives and fortunes of every Neopolitan. In Italian with subtitles.
Opens in limited release.
"Great Speeches From a Dying World"
After walking 1200 miles to meet his favorite director in his last doc, "Walking to Werner," Seattle-based filmmaker Linas Phillips returns to the streets to showcase the plight of the homeless population through the stories of ten men and women, each asked to select a great speech from history that he or she feels is relevant to their lives. As the economic recession continues, Phillips offers a poignant reminder that the difference between the famous and the forgotten is measured merely in how much attention the rest of us choose to pay.
Opens in New York.