Oscar shorts, stop-motion Gaiman and "Blair Witch" in Afghanistan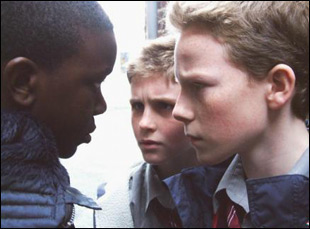 Posted by Neil Pedley on
On offer this week are films both long in the making and short on running time. Dakota Fanning does a double bill, Steve Martin further damages his credibility and "Blair Witch" director Daniel Myrick returns to have people running for their sanity.
"2008 Academy Award Nominated Short Films"
For one week only, Shorts International and Magnolia Pictures have teamed up again to bring you the world's finest in the way of live action and animated shorts from a multitude of international filmmakers, as determined by the Academy's selection committee. This year's live action lineup includes the Swiss/German drama "Auf der Strecke (On the Line)," the French life reimagination drama "Manon on the Asphalt", the Roddy Doyle-adaptation "New Boy" [pictured right], the Danish comedy "The Pig" and the German Holocaust-themed drama "Spielzeugland (Toyland)." The animated slate consists of the Japanese hand-drawn "La Maison en Petits Cubes", the Russian slice of life "Lavatory – Lovestory" (which one can get a taste of here), the French CG aquacomedy "Oktapodi", Pixar's "Presto" and "This Way Up," a U.K.-produced undertaker satire.
Opens in limited release.
"Coraline"
Despite all that was achieved with the sorely underrated "Stardust," king of literary kook Neil Gaiman's various projects keep on finding their way to the big screen, though they're still in search of the right audience to appreciate them. It is unsurprising then that he gravitated towards director Henry Selick for this stop-motion adaptation of his multi-award-winning novella, since Selick's similar mindmeld with Tim Burton led to "The Nightmare Before Christmas." Dakota Fanning voices another one of Gaiman's trademark impish protagonists as the titular young girl who discovers a mysterious door to a mirror universe where wonders both alluring and dangerous await her.
Opens wide and in 3D in select theaters.
"Fanboys"
With a history going back nearly to its inspiring event, this passion project, 10 stop-start years in the making, is a coming of age story about a group of friends (Jay Baruchel, Dan Fogler, Sam Huntington, Chris Marquette) who make a pilgrimage to the Skywalker Ranch to steal a peak at "Star Wars: The Phantom Menace" as a final gesture of solidarity to a terminally ill member of their troupe. The film went through reshoots, test screenings of an illness-free version and even prompted a Stop Darth Weinstein campaign by fans against the film's distributor, the Weinstein Company. Likely relieved for not being the target of fan protests for a change, George Lucas actually enjoyed the film so much, he resisted the standard cease and desist letter 14-year-olds typically get in their mail after sticking a Wookie roar on their website, and offered director Kyle Newman the full range of official sound effects.
Opens in limited release.
"He's Just Not That Into You"
Thanks most likely to producer/star Drew Barrymore donating her address book, this romantic comedy, based on a self-help book which itself was inspired by a line from "Sex and the City," boasts an ensemble cast that would make the likes of the late great Robert Altman seethe with jealousy, you know, if he were into these kinds of movies. "Sexual Life" helmer Ken Kwapis has a bigger budget to work with for this relationship comedy that weaves a multi-threaded story around the idea of lopsided love. Ginnifer Goodwin stars as Gigi, a lady perennially unlucky in love, seemingly unable to interpret the subtle signals of the dating game, while a cast featuring the likes of Ben Affleck, Jennifer Aniston, Scarlett Johansson, Justin Long, Jennifer Connelly, Kevin Connolly and Bradley Cooper revolve around her orbit as young lovers hooking up and breaking up searching for that special someone.
Opens wide.
"Memorial Day"
Watching some of the chaotically assembled pseudo-found footage from avant-garde theater director Josh Fox's feature debut, it's difficult to tell whom he's angrier with — an outgoing administration that trains its soldiers to hate rather than to protect, or "Girls Gone Wild" founder Joe Francis. Opening with some handheld footage captured at an unspecified beach resort playing host to some spring break revelry, Fox trails a group of likely lads through a lurid night of hard drinking, hard partying and the odd no-means-yes romantic interlude. With the camera still rolling, Fox follows these same fellas back to their day job as guards at an Abu Ghraib-esque hellhole where widespread prisoner abuse and casual torture is all part of a day's work.
Opens in New York.