Carol Reed's Comedy of Pre-Revolutionary Cuba, Plus "The Singing Revolution"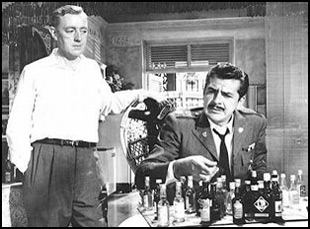 Posted by Michael Atkinson on
Filmmaking is all about collaboration and fortuity, as much as we genuflect faithfully to the sacredness of the auteur. Take Carol Reed — a career that spanned almost four decades, encompassing 33 features, and yet only a few are memorable (not, God knows, his late-career Oscar-winner "Oliver!"). Essentially, Reed finds his way onto the pantheon's higher shelves on the strength of only a handful of films, starting with the trio of startling, precise, infinitely rich features he made in the late '40s, one after the other — "Odd Man Out" (1947), "The Fallen Idol" (1948) and "The Third Man" (1949) — and ending a little less auspiciously with "Our Man in Havana" (1959). The rogue factor here is that three out of the four were written by Graham Greene, whose particular ironic-tension story skills gave many a medium-boil filmmaker his best shot at sublimity. The first three — certainly one of film history's loveliest and most fecund three-year sprees — have been hailed enough, but the last of the list, an outright Boulting-style comedy set in the Greene-ish world of pre-revolutionary Cuba, remains forgotten. So much so that its DVD release has been folded into the bizarre Sony marketing campaign dubbed "Martini Movies," which in the current batch entail everything from Arch Oboler's 1951 sci-fier "Five" to Richard Rush's 1970 flower-power "Getting Straight," and which slaps each individual film with its own customized martini recipe, printed right on the disc.
At least "Our Man in Havana" has a robust amount of tippling. (It also evokes the palm trees & pools imagery of Kalatozov's "I Am Cuba," coming five years later.) Alec Guinness plays Wormold, a disaffected but far from dim vacuum cleaner salesman stuck in Havana with his luscious but oddly immature teenage daughter (Jo Morrow); he's accosted by dapper OSI agent Noël Coward (the only man in Cuba constantly plagued by panhandling mariachi bands), and, because the money is tempting, agrees to become a field agent, even though he has no idea what he's watching for or whom he's spying on. Soon it becomes apparent that the easy-street situation will collapse unless Wormold recruits some sub-agents and does some espionage, or so he fabricates, and fabricates enough to warrant more attention and actual staff members (including Maureen O'Hara as the least pretentious woman spy ever). So he must fabricate further, to extricate himself from the grips of genuine political trouble.
It's a quiet movie (too quiet, actually — it's plagued by those eerie, no-ambient-noise post-dubbing patches common to midcentury British movies), and Guinness plays his sweating fool-in-the-middle so drolly he actually tamps the potential comedy down to a chucklesome hum. But Coward, winding up his spy master expositions with a flurry of hands and an "all that rubbish," is crisply hilarious, OSI chief Ralph Richardson makes every line of his sound like a hard-boiled egg thrown through a window, Ernie Kovacs chews his scenery like a cigar butt as a corrupt and horny head of Havana police, and Greene has planted racy running jokes throughout the movie like land mines. Four years before "Dr. No," but in the bestseller heyday of Ian Fleming's pulp geyser, Brit spy culture gets a vinegar pie in the face. The movie's political position towards British intelligence bungling and Batista-era corruption is uniquely relevant — the Castro revolution had wrapped up only three months before filming began, and Castro was so content with the movie's slant that filming in Havana wasn't interfered with, and its filmmakers were never painted as Communist in the middle of the Red-scare Cold War era. Given the criminal foot-tripping of spies in and around Cuba in the '60s, maybe they were simply right.