A Film Critic Digs Into His Family's Slave-Holding Past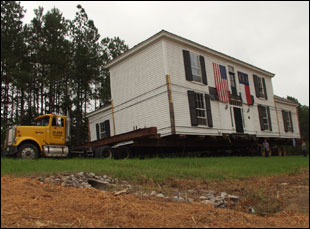 Posted by Michael Atkinson on
Say it again — there's a film inside every family, and all you need is the head and heart to find it. (That is, you don't need to be the cursed Great Neck residents of "Capturing the Friedmans" or "Tarnation"'s Jonathan Caouette, and in some ways, it'd better for us all if you aren't.) Film journalist Godfrey Cheshire's "Moving Midway" (2007) has a deep ditch of historical soil to dig, but it's not a personal-regional family doc that focuses on dysfunction or tragedy; rather, its position is ironic and aciduously nostalgic. Originally from North Carolina, Cheshire may well be the most universally liked personage in contemporary New York movie critic culture (notoriously a small pond with mean fish; disclosure-wise, he is a friend), and his film comes both bearing an enormous amount of good will and receiving the same. I can't untie the extra-cinematic humanity from the film's threads, and there's something about both Cheshire's peripatetic friendliness and the film's unforced congeniality that encourages me not to try.
Foremost, it's an excavation: the legitimate history of Cheshire's family runs back to slave-holding days (his great-great aunt, however, decided the bloodline ran back to Charlemagne), and includes an old family plantation, Midway. A relatively new highway and its accompanying suburban sprawl compels Cheshire's cousin, Charlie, to literally move the sizable manse physically to a more secluded plot, a decision that inspires Cheshire to consider the meaning of the house and its slavery legacy (as well as that legacy's life in the American consciousness, as Reconstruction pop culture and, later, movies). Then history begins to have its civilized revenge — Cheshire uncovers a post-Civil War interracial coupling that created an entire branch of the family no one knew was there, leading to "one hundred" African-American kin nobody at Midway knew they had, including, most vocally, NYU Africana Studies professor Robert Hinton, whose life and career has hinged on being the direct descendants of slaves.
There's even a concrete connection to D.W. Griffith's "The Birth of a Nation," and multiple reports of family ghosts. (One historian points out, fascinatingly, that the Klan uniforms in Griffith's film were invented for the film, and thereafter provided the template for the revived Klan's famous ensemble.) Cheshire's too good a film critic to let his movie slip into didactic political argument, and so there are layers of ambivalence here. In person, Cheshire is plainly moved by his own childhood memories of the house, and by the prospect of it being transplanted, but "Moving Midway," as a whole, is more temperate, acknowledging but not crowing about the contradiction between accepting the home's roots as a slavery institution and loving it all the same. (It's no surprise, for family's sake, that Cheshire steers clear of saying anything critical of his cousin, whose lavish expenditures and obsession with keeping the house in Reconstruction style suggest exactly the sort of lingering privilege, vanity and self-satisfying conservatism that characterized the rise of the South's "moonlight and magnolias" vision of itself.) As in last year's "The Order of Myths," there's a sense of the new-millennium South as a place where slavery is now merely a context for explored mutual history, and no longer, finally, a social trauma to be redressed. Even Hinton, as he admits that he'd hoped to hate the descendants of his great-grandfather's owners, seems to agree.