Mike Doughty's Top 12 Cheap Videos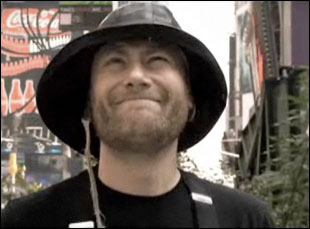 Posted by Mike Doughty on
Check out the world premiere of Mike's new video "Put It Down."
What the world needs now is videos, cheap videos. MTV doesn't play them, and VH1 only plays them before noon on weekdays, but we're still watching them, on YouTube and everywhere else. Before the record business started tanking, they were laying out big bucks for mega-productions; now budgets are more modest. Rightfully so, I think; one of the worst things to happen to videos was when, as the art of video-making started to come into its own, MTV began putting the names of the directors on the video, right under the song title and record company credit. On the positive side, this began a kind of auteur era in videos — Mark Romanek, Spike Jonze, Michel Gondry, Hype Williams — but, the music business being the music business, once they saw that one guy had a hit using a certain video director, everybody thought "If we use the same director, we'll have a hit, too!" There was a period when you could watch BET for an hour and literally see nothing but videos by Hype Williams; that is, until Hype's assistant director Little X started directing videos himself, and then every video was by Hype or Little X.
Fueled by the insane cash that was around when the CD was preeminent, labels thought nothing of spending $500,000 on a video. I remember being told that Warner Bros had little faith in me as a potential hit-maker because they budgeted only $120K for a video. I had a friend who lobbied his label for an extra $20K for a crowd scene in a video — a relatively modest rise from a $300K budget. Now artists — even established record-sellers — have trouble getting $20K in the first place. I tend to dislike the videos I made with Soul Coughing — it haunts me that we could've spent a bunch of people to film school for all the money our record company spent on them.
Lacking the big dosh, video-makers have to rely on inventiveness, not to mention the charisma of their performers — what they should've been relying on in the first place. Rob Barocci, Tina Fallon and I made the video for "Put It Down" for bupkis, less than $2,000 — we hope other artists and video-makers follow our lead, and the lead of others that are replacing fat budgets with creativity. To inspire, here's a list of cheap (and perhaps cheap-looking) videos:
12. The Cure – "In Between Days"
That weird effect where the camera is zooming back and forth and Robert Smith keeping shoving it away and all around the room was done by mounting the camera on a shopping cart. Cheapo animation magnifies the charm.
11. A Tribe Called Quest – "We Got the Jazz/Buggin' Out"
The fellas, sadly, are fairly uncharismatic, but the black and white footage matches the moodiness of the song. Even better is the rare instance of adding a brief video for a different song at the end — which strikes me as a really smart, inventive move for promoting an album that's really an album, not just a hit single — "Buggin' Out," in which they put ping-pong balls on their eyes.