LOOKBACK AT A SOUNDTRACK: Rocky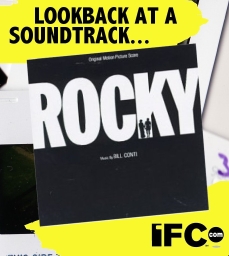 Posted by Jim Shearer on
The Original Motion Picture Score of Rocky holds a special place in my heart, because it was the first album I ever remember listening to as a child. Yep, my first favorite album was a movie soundtrack–I guess, technically, a movie "score."
How many kids do you find rockin' music scores on their iPod these days? And speaking of scores, how many boast a #1 Billboard hit song? "Gonna Fly Now" helped Rocky accomplish this feat in 1977.
(left: Dun-dun-du-du-dun-du-du-dun-dun-dun!)
The reason Rocky is held so near and dear for kids who grew up in the 70's and 80's (who I'm sure have pushed it on their kids by now), is that the score–masterfully composed by Bill Conti–was our first workout music. If you owned a gray sweatsuit, all you needed was the Rocky album to complete your Rocky-Balboa-self-starter kit.
I remember neighborhood girls had workout sets that came with cassette tapes, brightly colored leg warmers and rubber-covered, half-pound dumbbells. Wearing a raggedy pair of sweatpants, while listening to the sounds of Rocky, seemed to be a little more edgy, a little more punk rock if you will (heck, it's black-and-white album cover even looked like a punk rock concert flyer).
When I put the needle on the record (yes, literally), you better believe I was Rocky Balboa. "Gonna Fly Now" was my training anthem, and when the actual song of the Rocky vs. Apollo fight, "Going The Distance," came on, my two younger brothers became real-life punching bags. When I won the fight (which was not keeping in theme with the movie) I would dance around the living room to "The Final Bell."
Without question, "Gonna Fly Now" is the smash hit from Rocky. Who in America (and maybe even the world) can't hum this tune? Go on YouTube right now, and it may take you a full week to sit through everyone's Rocky parody set to its unforgettable theme song. In 2004, the American Film Institute rated the top 100 songs used in American cinema, and "Gonna Fly Now" clocked in at #58 (in case you're wondering, "Over The Rainbow" was #1).
Other instant goodies are "Going the Distance," which you may remember was sampled by Puff Daddy on his song "Victory" (No Way Out), and as I mentioned before; a good song to beat up your brothers to. If you can't decide between "Gonna Fly Now" and "Going The Distance," you can have 'em both in the medley, "Fanfare For Rocky."
Most of the other songs on this score are slow piano ballads that didn't sound good to my ears until I got older. And a look back at the Rocky soundtrack wouldn't be complete without mentioning "Take You Back," the a capella, street corner number performed in the movie by Sylvester Stallone's brother Frank. Go to any diehard Rocky fan–tone deaf or not–ask them to sing this song, and they'll give you a pitch-perfect rendition of its main hook (snaps and all).
When I'm running or working out, Bill Conti's Rocky compositions will occasionally shuffle through my iPod, and even though I've heard these songs for 30 years, I still get a boost from them. As I said before, kids don't listen to scores much these days, but if they did, and they had one as good as Rocky, maybe childhood obesity wouldn't be such a problem in America. (Or maybe there'd be a bunch of younger brothers with bruised ribs and black eyes.)