The Sandbox: New Movies Enter an Old Dimension of Gaming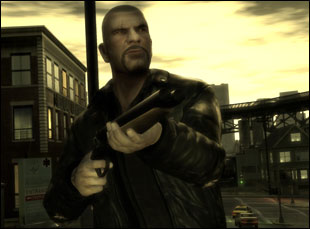 Posted by Nick Schager on
It's easy to understand why video games continue to be viewed as child's play. Since the Atari 2600's groundbreaking 1977 debut, the gaming industry has targeted kids as its prime demographic, defining itself via cartoon mascots and titles that conceal any gameplay or thematic complexity behind a veneer of juvenelia. Yet despite that situation, over the past decade a quiet gaming revolution has begun to show signs of maturity. As PR flacks will readily tell you, the domestic gaming biz now outpaces Hollywood's annual box office ($21.33 billion to $9.78 billion in 2008 profits alone). Even when factoring in games' higher average prices and that such figures don't include DVD and Blu-ray receipts, a discrepancy of that magnitude is fairly astonishing. But it's not incomprehensible. If plenty of gaming products remain kid-centric, the field has also, in tandem with its original children-of-the-'80s fans' advancing ages, expanded to include more than just "E for Everyone"-rated entertainment. Games, from "Grand Theft Auto" to "Rock Band" to "World of Warcraft" — have steadily been growing up.
As proven by Hollywood's endless stream of crummy R-rated movies (or TV junk food like "Rock of Love Bus"), just because something appeals to an adult demo doesn't necessarily mean it's worth a lick. And while that also holds true for video games, which routinely mistake cursing, bloodshed and Cinemax-style sexual content for "maturity," the medium has — in ways not always noticeable to casual onlookers, but plain anyone who spends at least a portion of their free time with an Xbox 360, PlayStation 3 or Wii controller in hand — developed an unmistakable strain of sophistication. Roger Ebert may have famously denigrated it as an inherently inferior art form, but any examination of modern gaming on its own terms (rather than against those of literature, film or theater) suggests otherwise. With regards to aesthetics and interface mechanics, as well as to their unique use of interactivity to create visceral and emotional responses, to address moral issues and to investigate the potential of different narrative modes in a hyper-media-saturated culture, video games really are gradually approaching the level of, for lack of a better word, art.
That may sound like highfalutin' overreaching to the average ear, but that assessment's been taken to heart by a host of mainstream media big shots, from behind-the-camera A-listers like Steven Spielberg, Peter Jackson and John Woo, all of whom are involved in game production, to center stage talent like Samuel L. Jackson ("Grand Theft Auto: San Andreas"), Liam Neeson ("Fallout 3") and Vin Diesel ("Wheelman" pictured right), three of the many name-brand stars who've contributed performances to recent blockbuster titles. Predictably, where the talent goes, so too goes Hollywood's major studios, which have not only noticed but initiated measures to counteract gaming's pop-cultural ascendancy. And nowhere is that more noticeable than in their eager embrace of a half-century-old gimmick that — courtesy of heavily hyped 2009 theatrical releases like DreamWorks' "Monsters vs. Aliens" and James Cameron's "Avatar" — is now primed to be a familiar facet of one's moviegoing experience: 3D.