Tom Tykwer Talks "The International"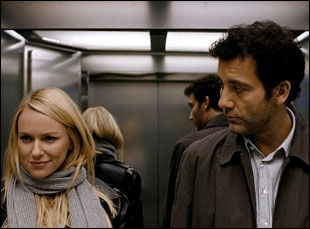 Posted by Aaron Hillis on
German filmmaker Tom Tykwer ("Run, Lola, Run," "Perfume") may have been working on "The International" for years, but his new thriller sure seems frighteningly prescient amidst the current news of economic despair and predatory lenders. Clive Owen stars as an impassioned Interpol agent who, along with his District Attorney pal Naomi Watts, aims to take down a wholly corrupt bank that finances terrorists and murders those who stand in their way of doing business. An entertaining, gorgeously shot throwback to '70s Hollywood conspiracy thrillers, "The International" sees our heroes chasing the money all over the world (Berlin, Milan, Istanbul, New York; what's in a movie title?), leading up to a dizzying shootout in the Guggenheim Museum that filmgoers will likely be talking about for years to come. I sat down with Tykwer in New York, who had just returned from the Berlin Film Festival, where "The International" had recently played as the opening night selection.
Berlinale insiders are often so dismissive of each year's opener, even before they see it. Did you feel any pressure being both a local filmmaker and screening in that cursed slot?
Sure. The opening night film has to connect so many dots. It has to be entertainment; it has to make sense in this party mode that the opening is about. But that's why it was so much fun, because I think people were quite shocked because it's pretty violent and quite intense. It's political, yet still a real thriller. You usually don't open film festivals with [sociopolitically relevant] thrillers, which we were trying to make here. Actually, people embraced that. They loved that it wasn't just a fancy piece of chocolate, but a little bit more, like a full meal.
At least you weren't Lukas Moodysson, whose new film "Mammoth" was booed at the fest.
It got booed? He's a genius, how could they boo him? Well, I can tell you, the Berlin audience is quite ruthless. [laughs] But they're also quite expert and very enthusiastic about cinema in general, so that's quite shocking. "Lilya 4 Ever" is a really amazing movie, and what was his first one, "Fucking Åmål"? I'm a big fan of Lukas' work.
I'd love to know the backstory on the action sequence set inside the Guggenheim. That scene alone justifies this movie's existence.
I hope the rest is also interesting. [laughs] Architecture plays a big part of the movie in general and for the most intense, climactic sequence of the film, we felt that we should probably choose one of the most iconic places in modern architecture. The Guggenheim offers so many unusual perspectives and emotions even. It was very inviting for a sequence where our protagonist is suddenly surrounded by assassins and attacked on all sides. Because of its spiral structure, the Guggenheim is the perfect spot to put somebody in this situation where he loses all sense of orientation and is overwhelmed by the situation. To create a massive shootout in this place caused all sorts of pragmatic problems. You can't actually go to the Guggenheim people and tell them, "Look, we need you to close down the museum for two months and let us tear it apart." But luckily, they were quite cooperative and curious about the project, and ultimately supported us as much as they could. We ended up shooting only a couple days in the real museum, and then we built the entire thing on a stage near Berlin in a one-to-one size perspective, and shot there for another six weeks to end up with this 13 minutes.