Astra Taylor Explains the "Examined Life"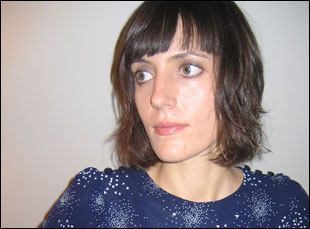 Posted by Aaron Hillis on
To say that the films of 29-year-old documentarian Astra Taylor are thought-provoking is not such a lofty compliment; it's literally the goal she has in marrying cinema with philosophy. 2005's "Žižek!" trailed Slovenian psychoanalyst, philosopher and cultural critic Slavoj Žižek around the world as he expounded on ideology and made eccentric observations on love, revolution and his own self-critique. Taylor's latest feature, "Examined Life," is no less absorbing, an intelligent yet accessible anthology of ideas that sees eight highly influential thinkers of our time (including Avital Ronell, Peter Singer, Michael Hardt — and yes, the wild and wooly Žižek) pontificating while taking walks through modern culture. Kwame Anthony Appiah talks cosmopolitanism from inside an airport, Žižek dissects ecology while digging through a garbage facility and Cornel West compares philosophy to jazz and blues while being driven around the streets of Manhattan by the director herself. When Taylor and I met up over coffee in Williamsburg, Brooklyn, we discussed the possibility of chatting in the car in which West was filmed, but it was unfortunately being used to sing in by her husband, Jeff Mangum (reclusive frontman of the influential '90s indie-pop band Neutral Milk Hotel), who also contributed some sounds to the film's score.
I'm fascinated by your restraint in the film, since you occasionally appear onscreen, but with a far more passive voice than your subjects.
Every time you put yourself in a film you risk things [being] pointlessly narcissistic. Why make something autobiographical that doesn't need to be? In this project, I perceive myself as an inquisitive voice that's not necessarily so much identified with Astra as an individual, but taking on the perspective I want the audience to have: questioning but not attacking, and not arguing for its own sake. A lot of philosophy is based on argumentation, so I wanted to break philosophy out of that habit for a bit, give some space to listen, and try to get to the heart of people's perspectives. It's something I'm so ambivalent towards — my presence in the film. I haven't reconciled to it.
Is it seeing yourself on camera that you're uncomfortable with, as plenty of people are themselves?
No, it's just when people insert themselves, it's often gratuitous. At the same time, I made a pact with some of the philosophers in the film that if they were going to appear, I would appear — namely Avital Ronell, Judith Butler and my sister Sunaura. So I already had a certain responsibility to be a presence because their participation was contingent on that. Perhaps it's more honest because it's not an objective portrait of philosophy today as you might discover in philosophy departments. It's absolutely not that. This is a film that focuses on ethics, human vulnerability and interdependence. These are things I'm interested in, so they're highly personal, I suppose.
So let's get personal. What's your philosophy on philosophy? Why is it so important to you?
This project is sort of appropriate to my personality. Even as a kid, I was always wrestling with the world. I had this magazine [as a child], "Kids and Animal Rights and the Environment." I was already reading Peter Singer's "Animal Liberation" and different books, especially on animal rights, which brings you into ethics and moral issues. My question at that time was: What are the mechanisms through which adults brainwash children into eating other animals? [laughs] How is this reinforced in culture, and the bullshit children's books you get about the happy farm? I was investigating ideology, so that's the motivation. I have some sort of vision of a more just world in my mind. I'm wondering why other people don't agree with me, and why my values seem so out of step. This is the thing about being raised in a strange bohemian family; you're out of step with everyone else, and you wonder, "Why are we so odd?"
It's just something I've always done and gotten enjoyment out of. Questioning things, thinking about how we ought to live, how we could arrange society in a more equitable way. I also have a strong educational philosophy that's rooted in my experience of being "unschooled," being home-schooled but with no curriculum, no schedule. Your parents don't play the role of teachers but maybe facilitators. When you're unschooled, the world is your classroom, and it's all about experiential learning: by doing, at your own pace, and on your own time.