Gretchen Mol Indulges in "An American Affair"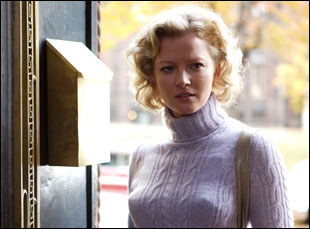 Posted by Aaron Hillis on
Sooner or later, nearly everyone will feel the effects of our sinking economy. Have you noticed it, in terms of your career?
I have the luck of being on a show that, for the first time in my life, is probably the longest-term job I've ever held down. I'm working a lot of crazy hours, so I'm very filled up with work right now. But at the same time, the question of whether we'll be back next year, you can feel that all the time. Whether or not the economy is affecting studio choices, the choices that they make as far as what's going to work, what's going to draw viewers in so that they can keep selling the macaroni & cheese or whatever we're doing, you can feel it. As far as my own work, I just feel very fortunate to have a job right now.
You've said and shown that you don't have a problem with nudity, and that you know the line between it being beautiful or exploitative. How can you tell the difference when it's just in a screenplay, before you've worked with a director?
Well, that's true. Hopefully, you have an instinct by knowing and talking to the director. You can't just blindly go into it. You have to have the conversation. I don't know what to say to that, it's totally an instinctive thing. Some people might look at [my nude scenes] and say, "What's she talking about? That's total exploitation!" I guess if you don't feel exploited, then you aren't. In this film, and certainly in "Bettie Page," there was no question to me that it was well-intended. I don't think it should be something that's so taboo, yet certain violence… you know, people don't bat an eye about decisions to be in films with brains splattered all over the backseat of a car, or what-not. That's considered "cool," somehow. I think America definitely has a funny relationship with nudity and sex. [laughs]
I agree, and I'm no moralist, but there was one scene in "An American Affair" that prompted my asking: In a scene where you and Cameron Bright are talking outside one rainy night, was it necessary to be wearing a sheer white shirt, soaked through?
It's interesting that it looks a certain way on film that, with a different actress with a different body, it might not even have had that impression that it made on you. It certainly wasn't written into the script [as titillation]. To tell you the truth, I've only seen the film as a screener copy on my TV at home, and I know the scene you're talking about. I remember thinking [about it] at the time when we were shooting it, soaking wet, and you can see my bra and everything. When things are too distracting and pull you out of it, then that's maybe not the point.
I've long been a fan of Abel Ferrara's films and fascinated by his character. As someone who has worked with him twice, can you share any details about that gruff, eccentric personality?
I haven't talked to him in so long, but I have such affection for him. He gave me my second film role ["The Funeral"], and it was with all these amazing actors, like Christopher Walken, Chris Penn, Annabella Sciorra and Isabella Rossellini. It was one of those sets that was completely chaotic, but he has control over it, for someone who seems completely out of control. He's such an über-smart, tuned-in person. He never forgets a thing you say, and you feel like he's not really paying attention. One of my favorite things he does is, if you're on the phone with him, he'll just sort of… [Mol makes a moaning noise like Frankenstein's monster]… and hang up the phone. [laughs] It's almost like everything with him is to be continued.
Being married to director Kip Williams, have you been inspired to be on the other side of the camera?
No, I really haven't. I don't think it would be my forté, and I don't have any real desire. I love working with good directors and I love the collaboration, but I see through [Kip] that so much of directing is about instant decisions. I'm a person who likes to sit, think for a while and then decide. I'm more of a turtle in that way.
Your son Ptolemy just had his first birthday last fall. Has motherhood changed any of your career goals?
It's definitely changed what I have to offer. It's sort of the cliché thing that you've never loved anything as much as you love your child. I used to think, "But I really love my cat!" Then you have a kid, and it's like, "Throw myself under a bus [for him]? Sure. It's not even a question." I'm sure it will affect my choices down the road. But now, it's so much about making the right decisions in terms of balancing out the hours that I spend working, and the time I'm with him. I find that really challenging. It's hard not to spend every minute with him and feel like you're doing the right thing.
"An American Affair" opens in New York and Washington D.C. on February 27th; it expands to Los Angeles on March 6th.