Gretchen Mol Indulges in "An American Affair"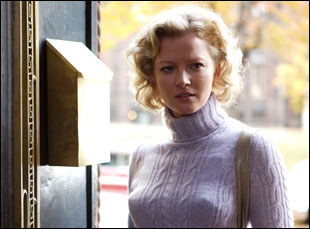 Posted by Aaron Hillis on
When model-turned-actress Gretchen Mol first arrived on the scene in noteworthy '90s films like "The Funeral" and "Rounders," lazy journalists started whistling "It girl," that hyperbolic phrase given to all ingénues who fulfill three criteria: (1) they're pretty, (2) they're charming and (3) they have multiple projects being released around the same time. Some actresses don't survive the overhype machine and burn out as the next hot thing comes along, but Mol persevered, worked with directors like Woody Allen, Neil LaBute and James Mangold, and found further success with starring roles in "The Notorious Bettie Page" and TV's new hit "Life on Mars." Her latest film is director William Sten Olsson's 1963-set "An American Affair," an unusual hybridization of the sexual coming-of-age tale (enter "Birth" star Cameron Bright) and the JFK conspiracy thriller, in which Mol stars as a Washington D.C. bombshell, abstract painter and Kennedy paramour who gets in over her head on both the federal and neighborhood fronts. By phone, Mol chatted with me about the film, motherhood, Abel Ferrara and life after being the "It girl."
You seem to have had a proclivity for period pieces in recent years, if you count the 1970s-set "Life on Mars." Is this more than just coincidence?
Not on my end. I feel like I've actually done it most of my career. One time, I was in the future, and most of the time, I'm in the past. [laughs] It's certainly not anything that I do consciously. When reading a script, you're looking for things that you [hook you]. You fall in love with the story, the character, or both, or the director. There has to be some element there. Working in period is fun and exciting because it's that much more of a departure from me, myself, and I when I'm looking in the mirror in the morning. By the time you go through the wardrobe, hair and makeup, you do your work, you get your history lesson on what was going on at that time, it just removes you that much further from yourself.
So what was the standout element in the "An American Affair" screenplay for you?
It was really the character of Catherine Caswell. There's something fun for actors to play broken people who are going to be a struggle to sympathize with, and try to find something about them that you can love. You have to overcome judging them, and there's a lot with this character to judge. [laughs] There's just a lot to her. She was different from the way I often get cast, which is as the sometimes sweet, sometimes naïve person, like Bettie Page or in the Neil LaBute play ["The Shape of Things"]. This woman who's often blind to other people's feelings and going forward in her own way, she was smart and creative, but frustrated and made a lot of bad choices.
Even though you say there's a certain demeanor to the roles you're regularly offered, is it at least nice to no longer be the new girl in the room?
Yeah, absolutely. That's a moment when you can hopefully pass through and survive. The whole idea is to work for a long time, and it's hard in this business to do that. So I'm happy still finding fun, interesting parts to play at this point, and I think about the future — but of course, who knows? You're always one role away from feeling like, "Oh, I'm going to work steadily for the rest of my life. I have nothing to worry about," but I don't know if you ever really feel like you can sit back and relax.
Are there new paths you'd like to take, maybe a role that subverts the "sweet" characters?
No, I don't know. I feel like I've been able to play a variety of different people so far. I did a musical on Broadway ["Chicago"] for a while. I would like to go back and revisit that in film because I love singing and dancing. Those are things that I studied, so I often feel like it's a part of myself that I don't get to tap into that often. As rigorous as the whole Broadway schedule was, it was a challenge and I had such a great time doing that. But as far as kinds of roles, whatever it is that you have to offer different characters and parts, it's hard to get too far away from "that thing." I feel like I have to finally admit that. Actors think, "I can do anything!" [laughs]
Besides the singing and dancing, what do you enjoy about theater that film doesn't offer you?
For me, it's the start to finish. You're on your own as an actor there. You get to play out a whole journey in one fell swoop, and you get to feel the energy from the audience in a way that you don't with film. With film and television, you're just shooting pieces, often out of order, and so you don't get that sense of a beginning, middle and end, and the satisfaction that that brings. You have a sense of control, too. No one can edit that performance.