LOOKBACK AT A SOUNDTRACK: Garden State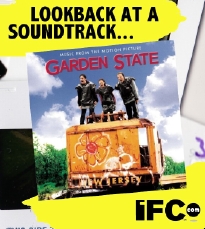 Posted by Jim Shearer on
We are in an age where indie music is expected to be heard on a national level–whether it be through a car commercial or a dramatic montage on Grey's Anatomy. Movie soundtracks are no exception. As proved by said car commercials, iPod ads, and slow-motion-theatrical-sequences, there is a want and need for indie-minded music.
(left: Let's see how good you are, what song was playing during this scene?)
That's why when music supervisors begin putting together a playlist for their film's soundtrack–one in which they want to use some hip, under-the-radar music–one of the first places they'll look for inspiration is the soundtrack for Garden State. Since the beginning of the 00's, no other movie or TV show (sorry O.C. and Gilmore Girls) has been able to top the playlist for Zach Braff's baby (he also wrote and directed Garden State).
There are many reasons the soundtrack for Garden State triumphs. First and foremost, Garden State–the movie–was good. It's a lot easier to get excited about a soundtrack if the movie it's representing was captivating to begin with.
Many times throughout Garden State, music leads the way, so by owning the soundtrack you also hold the keys to many of the film's story-telling devices. Want to relive the scene of Sam (Natalie Portman) putting a pair of oversized headphones around Andrew's (Zach Braff) ears telling him that The Shins will change his life? Go to track #4, "New Slang" by The Shins, and you can just see the big ol' smile stretch across Natalie Portman's face.
Though it's tough to associate every moment in the movie with a song on the soundtrack, you can definitely do it with a handful. Frou Frou's "Let Go" brings you back to the dramatic last scene where Andrew plants a big wet one on Sam in the baggage claim area, while Simon and Garfunkel's "The Only Living Boy In New York" takes you back to the rainy scene in the quarry where everyone's wearing garbage bags for raincoats. (I can even look past the fact that Braff's character was technically "The Only Living Boy In New Jersey.")
Garden State also succeeds because it doesn't fall into the normal Hollywood traps. The scene where Sam hands her headphones over to Andrew could have easily been contrived into a major label, integrated marketing stunt:
Sam: Here, listen to this new Maroon 5 single, it will change your life.
Andrew: Ah yeah, that's awesome!
Next thing you know, you've got a Maroon 5 music video with scenes of Garden State interspersed throughout.
Method Man also has a cameo in the film, which might have lead some record-industry-peeps to think he deserved a track on the film's soundtrack–fortunately he doesn't. No knock on Method Man, but all of the songs on Garden State perfectly match the mood of the film, everything from Iron and Wine's lovely "Such Great Heights" to Coldplay's pre-arena-days, "Don't Panic". I'm not sure if a Wu-Tang Clan track would have gone well between songs by Remy Zero and Thievery Corporation.
To all soundtrack producers and montage makers looking to strike gold, here's the secret to the success of the Garden State soundtrack–Zack Braff took a whole bunch of mainstream-accessible songs from mostly indie-minded bands, and, basically, just made a really good mixtape.