Four Blaxploitation Films Off the Beaten Path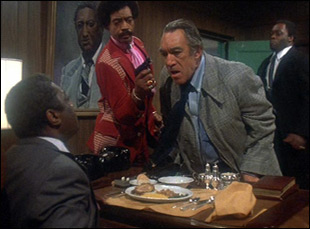 Posted by Matt Singer on
By this point, we're all familiar with "Sweet Sweetback's Baadasssss Song" and "Superfly" and "Shaft," we know all about Pam Greer and Fred Williamson and Jim Brown. But the 1970s produced dozens and dozens of blaxploitation films beyond the handful that have come to stand-in for the entire genre. Many were formulaic, some were downright terrible, but a lot were a cut above. These four uniquely superb blaxploitation films, largely forgotten to history, deserve rediscovery by new audiences and fresh eyes.
"Across 110th Street" (1972)
Directed by Barry Shear
Some 30 years before the groundbreaking crime series "The Wire," an unassuming blaxploitation picture covered similar territory with much the same complexity, albeit on a much smaller scale and with significantly fewer critical accolades. Both were shot in real locations with local actors; both draw parallels between the structure and politics of the underworld and the police force. Often in "Across 110th Street," the former feeds into the latter. One scene between two men who've stolen from the mob is shot at a low angle that exposes the big fluorescent lights illuminating the room; in the next scene, the two detectives on their tail are shot from the same angle in a room lit exactly the same way. These men, both cops and criminals, share one world and one attitude: clinging to the dreams of escape tempered by the knowledge that once you go across 110th Street, you rarely go anywhere else.
Racist whites are a staple of blaxploitation movies, but "Across 110th Street" has two characters who add complexity to the stereotype: mid-level Mafioso Nick D'Salvio (Anthony Franciosa), who projects his self-loathing onto the African-Americans he pushes around, and Capt. Mattelli (Anthony Quinn), who fashions himself something of a community hero but can't see the bigotry ingrained in his very soul. These characters, too, reflect on one another: in one scene, D'Salvio beats a black man while repeatedly insulting him by calling him "boy." In the next, Mattelli tries to comfort the dying man and coax information out of him; he, too, calls him "boy."
The movie is uncompromisingly brutal in suggesting the bleakness of life in New York City in the early 1970s and the movie does not shy away from depicting the horrific nature of the Mafia's violence (D'Salvio's victim has his eyes cut out and that's only the second worst thing done to his body). In "The Wire," the drug trade is often referred to as "the game." When you see the toll it takes on the lives of the people in "Across 110th Street," you understand why they call it "a war."
"Truck Turner" (1974)
Directed by Jonathan Kaplan
Here's a great example of a movie that has its cake and eats it too; it fulfills all the conventions of its genre while sending them up at the same time. "Truck Turner" features all the hallmarks of a blaxploitation movie — a badass hero, gangsters, fist fights, shootouts — but it keeps poking holes in its own macho image. Its hero, bail bondsman Mack "Truck" Turner (Isaac Hayes), is such a tough guy he sleeps with his gun holster on, but he still wakes up in the morning to a shirt covered in cat piss (classy guy that he is, he wears it anyway). Like a lot of blaxploitation movies, the villains are a collection of pimps, but here they mostly exist to make fun of the way pimps are portrayed in a lot of blaxploitation movies: when Turner kills one of their number, the others come out to his funeral dressed not in somber black, but in their most outlandish outfits (one has a bedazzled eye-patch).
Most blaxploitation films were not made glamorously. Many look like rush jobs produced in a no-frills style to get the shot, make the day, and finish the picture. "Truck Turner," though, has some panache: director Jonathan Kaplan, who has gone on to direct shows like "ER" and "Without a Trace" nowadays, knows his way around a camera, and regularly spices up the frame with interesting camera placements and good P.O.V. shots (Yaphet Kotto, as the most heinous of Truck's nemeses, has a good one where he spits on someone and loogies right into the camera lens).
Kaplan also gives "Truck Turner" a doozy of a car chase. Hot on the heels of a bail jumper, Truck and his partner knock over a shopping cart, a flower cart, an oil drum and a fire hydrant, then get out of their car and chase the guy on foot. When he steals their car and gets away, they hijack some poor guy's car and follow him to a bar, where the guy pays everybody inside to kick the crap out of Truck Turner, whereupon the chase scene spontaneously morphs into a bar fight. Kaplan's comedic touch reminds you this is a chase scene — and a rather obviously satirical one at that — but with the tight editing, nice camera work and funky soundtrack by Hayes, damn if it isn't exciting all the same.