Rotterdam 2009: Alexis dos Santos Rolls Around "Unmade Beds"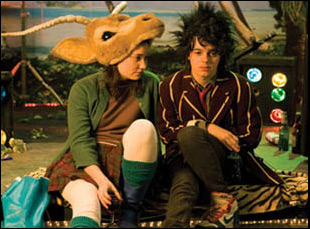 Posted by R. Emmet Sweeney on
The buzz is building around Alexis dos Santos' swoony sophomore effort, "Unmade Beds." Premiering at Sundance to no small acclaim, it made its way to Rotterdam and continues to impress. A jaunty, romantic tale of restless youth and their search for identity and a little sex, the film's real star is its set, a bohemian's paradise: a giant, labyrinthine warehouse stocked with drum sets, animal masks and an international cast of idealistic dreamers. Buzzing with French New Wave-like energy, there's a surprise (and a party) after every cut. Despite traveling from the wilds of Utah to the perpetually damp Holland, not to mention nursing a robust hangover, dos Santos heroically managed to sit down with me for a few questions about his latest work.
Could you talk about the origin of the film?
It goes back a long way. I started writing it when I finished film school in London. I had a lot of Nan Goldin in my head. The title comes from a picture of two beds she took. I thought it would be my first film, then at some point, I got tired… we were developing it with Film4 for a couple of years. It just kept going and going, and at some point, I decided to shoot something else in my hometown, which became [my 2006 first feature] "Glue."
It feels like you know the setting of "Unmade Beds" very well. What is your relationship with the East End of London?
When I started writing, I wanted to make a portrait of the London that I was living in, which was different from that portrayed in the films I saw. When I saw "Dirty Pretty Things," I felt it had nothing to do with the London I knew. The city has millions of different kids from many different countries. It's perfect for them because there's so much good music and art. Sometimes they stay for three months, sometimes forever.
I had friends who were living in squats, and I made a couple different music videos in them. There was a big warehouse where art students and musicians lived, and every week there was a massive party over three floors. In every corner, you could see a pile of garbage, but if you looked at it closer it was an installation. There were installations absolutely everywhere. The whole place was a work of art. My friend who did the production design was one of the people squatting in these buildings.
Could you talk about the bands you had in the film?
I go to gigs a lot, and I like music a lot, so a couple of the bands I'd seen live. One of them showed up at the last minute after a woman pulled out of the movie. She said, "I just had a baby, I'm too fat to be filmed," a week before shooting. So we called up some friends of the lead actor, Fernando Tielve.
How did you cast the two lead characters?
I looked at loads of boys and girls from many different countries. I kept changing the nationalities of the two main characters in the script. In the end, they were a South American girl and a Polish boy. We were looking for that, and at some point, I said we have to open it up. I met Fernando a year before at the San Sebastian Film Festival. When he came to audition, I thought it was a cool thing that he was from Madrid. Kids in Madrid are quite wild. He has this confidence he moves around with.
I found Déborah François ("L'enfant") after I auditioned loads of girls from many countries. I saw Scandinavian girls, German girls, Mexican girls — what I was looking for in the character was not what I found in Déborah. What I found in her was something different, a bit of cheekiness and mischief. She had a great chemistry with Michiel Huisman [who plays her mysterious lover].