Conan's Finale (and Where Were Meg's Drums?)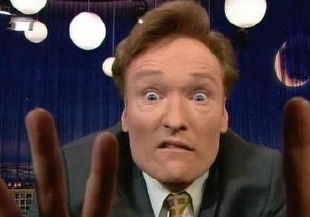 Posted by Jim Shearer on
For those that didn't see Conan O'Brien's Late Night finale on Friday night (or I guess Saturday morning), it was everything a finale can be (can't think of anything he really left out).
After a lengthy standing ovation, Conan told a few jokes, released Abe Vigado back into the wild, viewed a video sent in from John Mayer (in which the singer told Conan that LA would eat him alive), demolished a set piece, ran a couple of hilarious video highlight montages, and kept the guests to a minimum–George Bush (aka Will Ferrell), Andy Richter (a Conan send-off wouldn't have been complete without his former sideman), and The White Stripes.
It's no secret that Conan has a special place in his heart for The White Stripes. As I told you on Friday, the band spent a week in 2003 as the musical guests on Late Night, and Conan returned the favor a couple years later by starring in the Stripes' "Denial Twist" music video.
On Friday, Jack and Meg White were on hand to pay tribute to Conan's 16 years on Late Night by being its final musical guest–a tremendous compliment to Conan, especially considering that The White Stripes are in between albums and haven't toured in over a year.
Performing "Denial Twist" would have been a little cheesy for The White Stripes' taste, so the group dipped into their back catalog and performed the sweet, gentle, and childlike, "We're Going To Be Friends." I thought it was a perfect song choice, but questionable execution.
Instead of taking her place behind her starlight-mint bass drum (that's all she would have needed for this song), Meg played electric guitar alongside Jack's acoustic, as they both sang into the same microphone. Jack's arrangement sounded nothing like the original track, which felt more like a funeral dirge than a bittersweet send-off tune. Conan was moved nonetheless as he told Jack that the performance meant the world to him.
Conan closed out the night by shouting out his staff, the fans, his band, Lorne Michaels, David Letterman, and Jay Leno, and exited the Late Night studio through the audience, handing out pieces of the set he demolished earlier in the program.