Rituals and Royalty from Roberto Rossellini and in Mobile, Alabama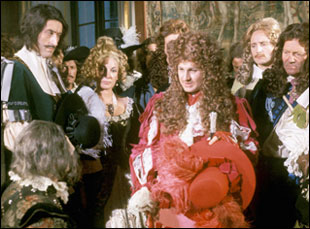 Posted by Michael Atkinson on
Roberto Rossellini has never been the most accessible of cinema culture demigods — his neo-realist trilogy seems more influential than timeless these days, and his Ingrid Bergman films often feel offhand and crude. In 1962, as critic Colin McCabe recounts in his essay for Criterion's release of "The Taking of Power by Louis XIV" (1966), Rossellini renounced cinema per se, and promised he would from then on make only historical films for television. It's these films, in a string that lasted 13 years, that are the hardest to see and the most frustrating; the filmmaker's perspective grew more inhospitable and pedagogic the more he saw postwar culture slide into amnesiac self-indulgence. But, ironically, this irascibility resulted in a kind of stringency Rossellini never had before; "Louis XIV" may be the least deliberately "passionate" film ever made by an Italian, perhaps partially because it is French.
There's no underselling the movie's arid wax museum affect; in detailing the history of the Sun King's ascension, from the death bed of Cardinal Mazarin (when Louis was 22) to the new monarch's consolidation of control over a fractious kingdom, Rossellini paints every scene like a shadowless Baroque tableaux, keeping the pacing methodical, shooting in actual Versailles spaces where camera movement was sometimes difficult and instead using zooms to capture entire courses of action without resorting to intercutting. (This extends to off-screen action, which always rolls onward out of view.) The posed iciness that comes of this approach is formidable; it is Rossellini denying cinema's penchant for easy empathy and illusion, and for the reduction of history to melodrama. "Louis XIV" might be the most realistic historical film ever made: the smells, dire hygiene, dull intervals, waiting, indulgent ritual, petty aristocratic decorum, horrifying lack of knowledge, etc. "History" can take on a gargantuan identity and weight if we let it; Rossellini is cutting it down to size, to just a litany of actions by ordinary, if nauseatingly privileged, men. Here, Versailles and the king's surroundings are not costume-drama luxury, but a scalding statement all their own about class injustice and state power. In this sense, it forecasts the implicit howl of Sokurov's "Russian Ark," even as it immolates the memory of Visconti's "Ludwig," also recently DVD-ed.
What it seems to me Rossellini discovered was the chilled, unpatronizing purity of Bresson, and how correctly it might be applied to history without glorifying it. This approach may arguably have met its Waterloo with the casting of Jean-Marie Patte, a rookie amateur, as Louis. Diminutive and robotic, Patte could not remember his lines, and so his dialogue is read from off-screen blackboards. This is a distracting fact once you're aware of it, but it also gives the performance a spooky, no-eye-contact detachment that echoes the king's in his scheming manipulation of other members of court. You could say the upshot is in some senses rather Ed Wood-esque (there's a stilted, read-only eeriness to some of those performances that's never been acknowledged), but it's also quite Bressonian, a distancing, a winnowing away of the inessentials. It is, in any case, a far cry from Anna Magnani and the bad Italian post-dubbing of the middle century. The more exhausted we become with the uninflected ritual, and guileless delineation of rampaging guile, the more Rossellini's point, about Louis and aristocracy but also about our own impatience with unglamorized historical knowledge, is proven.