A Dream-Memory of Patti Smith and a Sharp-Edged Hollywood Farce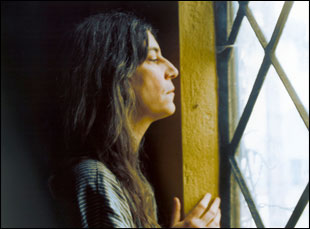 Posted by Michael Atkinson on
The DVD era has been very generous to low-grade biodocs focused on culty, semi-obscure pop wonders — everyone from the Holy Moly Rounders to Roky Erickson, Benjamin Smoke, Townes Van Zandt, Gary Wilson, Joy Division, They Might Be Giants, Scott Walker, et cetera, have received their official, devotional, feature-length eulogy. Graveside homilies they are, too, there's little point in denying it — for the aging musicians of the '60s, '70s and '80s as well as for our long-lost younger selves, now only faint traces of remembered élan, hope and indestructibility. Of course, Patti Smith, like Leonard Cohen and the Ramones (so nicely requiem-ed in 2003's "End of the Century"), is far from little known, but she still occupies that musty corner of pop legend-dom: more admired than listened to, known for her history more than her songs, aging into a kind of marginal retro-hipness but still not as well-known as she should have been or as many of her imitators actually were. Which is the nature of popular culture — many are called, few are chosen, and virtually none are remembered by a majority once the moment has passed.
I've never been a Patti-ite, but my rather picayune musical tastes have little or no relevance in relation to Steven Sebring's doc "Patti Smith: Dream of Life" (2008), because it is a lovely, enrapturing and wise film that eschews a straight-on biographical timeline, and instead, with Smith's obvious creative input, evokes a dream-memory of Smith's life that skips and swoons and dawdles according to private whims. It helps that Smith apparently remembers everything, including the dates she first met people like Robert Mapplethorpe and Bob Dylan and Sam Shepard, and she has also apparently saved everything as well: a good chunk of the movie lollygags around Smith's cluttered apartment as she unearths childhood dresses and old photographs and tattered objects imbued for her with totemic value (including a handmade Mapplethorpe tambourine). Filming took a solid decade (early on in the montage, Smith quietly declares a strike, and refuses to move from her chair), and reams of archival images are poured in, but what surprises most, and what keeps the film warmly glued together, is Smith herself, who despite her famous grim visage turns out to be a gentle mother, a devoted friend, a loving daughter to her elderly parents (still living in Deptford, NJ), a dedicated artist and a thoughtful person for whom remembrance and aging do not dampen the spirits of the impish girl inside the woman.
There is, always, a good deal of sensible love in the room — Smith off-handedly singing to her windowsill-lounging cat was a highlight of my documentary year. Throughout, life themes subtly emerge: Smith's haunted relationship, mostly from afar, with Bob Dylan; her mourning the loss of Mapplethorpe and her husband Fred Smith; her hopes for her daughter Jesse, who Sebring reveals to us as a kid and then in one breathtaking cut shows us the young woman she is now, smiling into the camera. But the film will have us understand that Smith's life is her own, and that the film is a kind of song composed of its parts, and if we're kept at a certain kind of distance, we are at the same time so close to her that the impulse to brush her shaggy hair aside is almost irresistible. After seeing the film, it's not surprising that Sebring and Smith decided to forget all about Smith's 2007 induction to the Rock and Roll Hall of Fame — there are no landmarks here, and most of the concert footage is recent, celebrating the present only.
If Sebring's film is shockingly cynicism-free, Steven Schachter's "The Deal" (2008) is nothing if not pure, vodkal derision, a manifestation of Hollywood vapidity skewering itself. There's no shortage of such satires (they date at least as far back as Tay Garnett's 1937 "Stand-In"), and it's not invalid to wonder if we need another on the heels of last year's adaptation of Art Linson's tell-all "What Just Happened." (Someone agreed: despite its pedigree, there was no theatrical release for "The Deal" following its premiere at Sundance '08.) All the same, there's little else that can so fecundly attract the vengeful wit of industry screenwriters as the very Absurdistan that exploits them and underpays them for content. This bouncy, sharp-edged farce is all inside baseball; its target audience is, to some degree, its own cast and crew. Still, it's difficult to resist when the purely idiotic is openly mocked by a sure-footed cast of line-readers, led here by William H. Macy (who co-wrote) as a has-been producer who's saved from suicide by a life-affirming, devilish idea: set up one more impossible, absolutely wrong-headed blockbuster project by exploiting the industry's own nearsightedness and vanity. "We're in the entertainment business," he says early on, "I'm entertaining myself," and he does this by setting up a biopic of Benjamin Disraeli (using a script he won't let anyone read, and which he's constantly hiring writers to revamp) starring an African-American action star (LL Cool J) recently converted to Judaism. Meg Ryan gets a thankless role as an executive bamboozled into making the film (her inevitable romantic entanglement with Macy's dead-end sleazebag adds to the ignominy), but the dialogue is fast and dead accurate, and of course, the target is a fat, awful, patronizing goldfish in a small bowl, begging to be shot.
[Additional photo:"The Deal," Peace Arch Releasing, 2008]
"Patti Smith: Dream of Life" (Vivendi Visual Entertainment) and "The Deal" (Peace Arch Home Entertainment) are now available on DVD.