An SF Rom-dram, a K-horror Remake and Liam Neeson Kicking Ass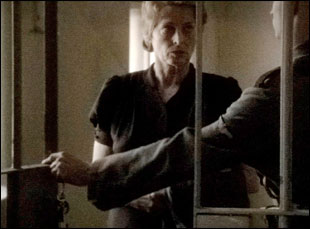 Posted by Neil Pedley on
The long, slow, soul-crushing stagger towards the Oscars starts this week with many of the nominated prestige pictures that came out three months ago getting back into the spotlight after the flurry of Sundance attention has thawed. Meanwhile, the remake machine cranks out another Asian-inspired chiller, Bollywood goes meta, and Liam Neeson kicks some serious ass.
"Blessed is the Match: The Life and Death of Hannah Senesh"
Given the Hollywood prestige crowd's endless fascination with all things Holocaust, it is unfathomable how the remarkable story of Hannah Senesh remains largely untold. Hailed in her homeland as a modern-day Joan of Arc, the then-20-year-old poet said goodbye to her privileged, middle-class upbringing and enlisted as a paramilitary soldier who volunteered to be part of a unit dropped into Nazi-occupied Yugoslavia in a daring bid to free captive Jews. Filmmaker Roberta Grossman pours through the young woman's diaries and writings and adds reenactment footage and candid testimony from her family to paint a compelling portrait of a most courageous individual. If this year was any indication, expect a big studio version of her story starring Angelina Jolie's lips (and perhaps the rest of her) before too long.
Opens in New York; opens in Los Angeles on February 6th.
"Luck By Chance"
With their iron-fisted penchant for passionate flamboyance, overt theatricality, and quite ridiculous industry standards regarding the "average" male physique, there really is no industry more primed for a little meta-mockery than Bollywood. Making her debut in the director's chair, Zoya Akhtar landed a coup in persuading Bollywood icons Aamir Khan and Shahrukh Khan to make cameos together for the first time in the same film before persuading her brother, Farhan Akhtar, to star as the bright-eyed young actor navigating the rough seas of the movie industry hoping to wash up on the shores of stardom. Along the way, he meets a demanding small-time wannabe mogul (Rishi Kapoor), an rising ingenue (Konkona Sen Sharma) and a fatheaded superstar (Hrithik Roshan) at the top of the food chain. In Hindi with subtitles.
Opens in limited release.
"Medicine for Melancholy"
Just as Gus Van Sant's recent critical favorite "Milk" looked to highlight the plight of gays in San Francisco in the mid '70s, this Spirit Award-nominated (and much-lauded) romantic dramedy from director Barry Jenkins gives voice to another marginalized 'Cisco minority in the here and now. In the city with the lowest African-American population in the U.S., Jenkins' film is a "Before Sunrise"-esque riff in the face of increased gentrification concerning two twentysomething strangers, Micah ("The Daily Show"'s Wyatt Cenac) and Jo (Tracey Heggins), from different rungs of the class ladder. After hooking up one night, the pair spend the following day touring the city, dissecting a myriad of urban issues, both emotional and intellectual, through chitchat.
Opens in New York.
"New in Town"
As the homespun Minnesota-set masterpiece "Fargo" famously declares, "a lot can happen in the middle of nowhere." But if this mildly condescending romantic comedy from Danish director Jonas Elmer is anything to go by, much of it takes the form of broadly drawn, formulaic crap where the mocking of Midwestern accents and "kinda funny looking" coats is not just fodder for one-liners, but can constitute an entire second act. Delivering a thinly veiled message about women in the workplace that might even look out of place in the 1950s (not to mention an ad campaign circa 2002's "Sweet Home Alabama"), the film stars Renée Zellweger as Lucy, an uptight big city gal dispatched due north to oversee restructuring of a blue collar factory. Guilty of the unforgivable crime of wanting to be really good at her job, her frostiness is slowly melted away by small town values and the plant's hunky foreman Ted (Harry Connick Jr.).
Opens wide.
"Shadows"
Quiet like the grave since his Oscar nominated 1994 debut "Before the Rain," save for the little-seen 2001 Joseph Fiennes drama "Dust," Macedonian writer/director Milcho Manchevski returns with a dark, psychological thriller set somewhere between this world and the beyond. Bosnian actor Borce Nacev makes his international debut as Dr. Lazar Perkov, a man whose public life presents the image of a promising physician but whose private life consists of being a doormat to his wife, Menka (Vesna Stanojevska), and a disappointment to his mother, Vera, a well-known physician (Sabina Ajrula). After miraculously surviving a near-fatal car accident, Dr. Perkov is plagued by a series of bizarre visits from ghosts sent to deliver a message he may not want to hear. In Macedonian with subtitles.
Opens in New York.