A SoCal gang doc, an Elmore Leonard adaptation and a Hitchcock retake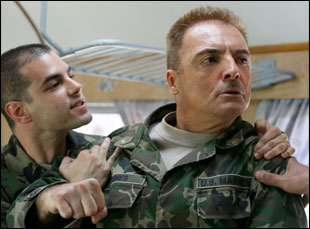 Posted by Neil Pedley on
This week, a strong international lineup stacks up alongside some domestic B-movie madness and traditional big-budget nonsense.
"California Dreamin"
Despite being technically unfinished at the time of its 27-year-old director's tragic and untimely death in a car accident in 2006, this raucous satire from the late Romanian filmmaker Cristian Nemescu ably illustrates what a great young talent was sadly lost. Partly a slight of American hegemony, partly a where-do-we-go-from-here meditation on his homeland post-Cold War, Nemescu's darkly comic tragedy was inspired by true events. Unfolding against the backdrop of the Kosovo conflict, the story centers on a train carrying NATO military equipment through Romania before being delayed in a station by a corrupt railway chief in order to exploit its cargo and the U.S. Marines guarding it.
Opens in New York.
"Crips & Bloods: Made in America"
Having previously chronicled the origins and the history of surf culture ("Riding Giants") and the genesis of the pro skateboarding scene ("Dogtown and Z-Boys"), documentary filmmaker Stacy Peralta turns his attention from the beach to the streets of South Los Angeles for this look at the proliferation of the city's most notorious gangs. With unprecedented access garnering candid and damning testimony from past and present members, as well as community activists and academics, Peralta examines the storied and bloody rivalry between the Crips and the Bloods, and the hundreds of lives lost to it over the course of 40 years of violence, and searches for answers.
Opens in New York.
"Donkey Punch"
Despite a title that implies some kind of lowbrow Latin American hijinks with Rob Schneider (it is, in fact, a dangerous theoretical sex act), British ad director Olly Blackburn's feature film debut is a lurid, morbid "good-timers in peril" thriller in the spirit of "The Beach" and "Turistas." Julian Morris fronts a group of well-off but unrefined guys on the prowl in sunny Spain, while Nicola Burley heads the trio of inebriated gals they entice onto their private yacht. After one of their number is killed with the titular offending act, bonds of trust and friendship morph into violent paranoia as the men sober up and seek to scheme their way out of responsibility when this idyllic cruise quickly descends into a deadly battle of a sexes.
Opens in limited release.
"Inkheart"
A movie version of a book that espouses deference to great literature and essentially tells its pre-teen target audience to stop watching movies and go read a book is quite the thematic conundrum. Brendan Fraser also has quite the conundrum on his hands as Mo Folchart, a father gifted with the ability to bring characters from books into the human realm whilst trapping a real person between the pages in their place, which poses a problem when he reads his wife into the fantasy novel "Inkheart." When his daughter Meggie (Eliza Bennett) is also kidnapped by one of the book's characters, Mo must rifle through its pages while fending off threats from an evil Andy Serkis. Helen Mirren, Paul Bettany and Jim Broadbent also star in this adaptation of the first of German author Corneila Funke's trilogy of fantasy novels.
Opens wide.
"Killshot"
Witness the resurrection of director John Madden's nearly four-year-old adaptation of Elmore Leonard's small-time crime drama, thanks to the resurrection of its star's career by someone else. Following the success of "The Wrestler," recent Golden Globe winner Mickey Rourke stars as an over-the-hill hitman partnered with a hotheaded scam artist (Joseph Gordon-Levitt) who threaten the livelihoods of an unsuspecting husband and wife (Thomas Jane and Diane Lane) when they innocently run afoul of the ruthless pair and find they are being used as pawns in a dangerous federal investigation.
Opens in limited release.
"The Lodger"
Considering the first and most famous adaptation of Marie Belloc Lowndes' gothic page-turner is a silent screen classic by Alfred Hitchcock, French Canadian helmer David Ondaatje has set himself no small task in crafting an adequate retelling for his feature debut. Set in present day Los Angeles, the film follows a cat-and-mouse game between a dogged police detective (Alfred Molina) and a Jack The Ripper-copycat killer. At the same time, an emotionally disturbed woman (Hope Davis) finds herself inexorably drawn to her dark and mysterious lodger (Simon Baker) who seems intent on hiding something.
Opens in limited release.