Joan Didion Remembers "The Panic in Needle Park"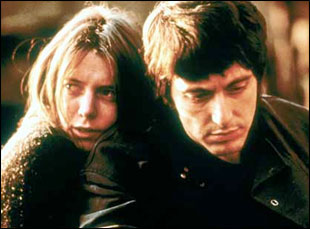 Posted by Aaron Hillis on
Journalist, novelist, essayist and all-around elegant wordsmith Joan Didion won the National Book Award in 2005 for "The Year of Magical Thinking," a memoir and instant classic about the year following the death of her husband John Gregory Dunne. With her late partner, Didion co-wrote such screenplays as "True Confessions," "Up Close & Personal" and "A Star is Born" (the Babs version, naturally), as well as the best of the lot, an adaptation of James Mills' novel "The Panic in Needle Park." Released in 1971, director Jerry Schatzberg's stark, moving, gorgeously photographed drama refers to the triangular Manhattan intersection at Broadway and 72nd Street — now dubbed Sherman Square, but then a hotbed for heroin junkies. A brilliant but at the time unknown Al Pacino stars as a small-time pusher who falls for smacked-out Midwesterner Kitty Winn (who won the Best Actress award at Cannes for her role), their story not so much a rise-and-fall chronicle as much as a fallen-and-fallen-further saga of love and betrayal. Ten minutes is never enough time with an interviewee as erudite as Didion, but the literary icon was kind enough to chat this past weekend in honor of the "Panic" re-release at New York City's Film Forum.
When you read "The Panic in Needle Park" in the summer of 1967, what was it that appealed to you for a potential screenplay adaptation?
The love story. Plain and simple, that was it. It was an interesting world that we hadn't seen on the screen in exactly that way, so I just felt as if it could work. As written by James Mills, it had a good strong narrative, you know?
At the time, what did or didn't you know about the life of heroin junkies on Manhattan's West Side?
I was living in California at the time. I knew a little more about other drugs because I had just [written] a long piece on the Haight-Ashbury, but heroin was not one of the drugs that was in play. What did I know about it? I didn't know really about that life, so we did some research. We stayed at the Alamac Hotel [at Broadway and West 71st] for two or three weeks.
Besides your experience co-writing it, does the film itself mean anything differently to you now?
I saw part of it on television one night about a year ago. Before that, I hadn't seen it in a long time. There wasn't a DVD of it until last year. I'd like to think it held up. [laughs] I kind of have to think that. When a picture is shooting, a lot of things seem arbitrary, or you might've done them differently if you thought twice about it. When we were shooting, I was overcome with what I had failed to do. Actually, when I saw it [again], I was struck by how much we did do. I can't reconstruct exactly what. When you're making a picture, you're hypersensitive to everything that might be wrong with it or might not work. You don't see what's right quite often. It can work the other way, too, but this is one that happily worked the good way. [laughs]
It's fascinating to me that there's still an air of romanticism about New York of that era, as if it was more alive and creative when it was riddled with crime, drugs and sleaze.
That was a nasty part of town. I was amazed to drive back by there and see apartments on that very corner being advertised on the side of a building, starting at $1.5 million. I'm happier with the cleaned up [New York of today]. You can still find un-cleaned-up parts. [laughs] Just not at the corner of 72nd and Broadway.
In your 1973 essay "In Hollywood," you were rather caustic towards film criticism. Do you still feel it's a "peculiarly vaporous" occupation?
I think the phrase I used was "petit-point-on-Kleenex," and a lot of it seemed to have that situation. But no, I think people know more about film now than they knew then. And I think critics really have a more accurate sense of how pictures are put together, and why certain things work the way they do. People know a little more about the business. There were so many great pictures in the '70s; I think, gradually, people were looking at them in a serious way.