Pass the Kool-Aid: Five Flicks That Aspired To Cult Status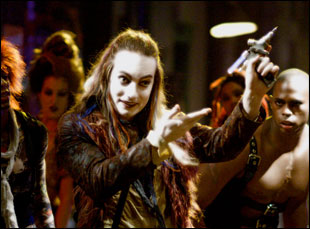 Posted by Matt Singer on
The trailer for this week's "Repo! The Genetic Opera" announces itself, via a quote from Fearnet editor Joseph McCabe, as "an instant cult classic!" With that idea in mind, distributor Lionsgate is forgoing the industry standard 3,000-screen release and taking "Repo!" on tour as a roadshow ("It's not just a film," the official website boasts, "it's an event!"). Some cultists have already bought in; at "Repo!"'s U.S. premiere at September's Fantastic Fest, at least a dozen people showed up dressed as characters to the movie, even though they hadn't even seen it yet. Terrance Zdunich, one of the stars and co-writers of the film said, "It's already becoming a "Rocky Horror" experience and we hope it continues in that vein."
The phrase "instant cult classic," though, is something of an oxymoron. By definition, a cult film has to first be passed over by the mainstream before a smaller band of passionate fans can obsess over it. Before "Eraserhead" could become a cult film, it had to sustain a disastrous premiere (which as chronicled in J. Hoberman and Jonathan Rosenbaum's book "Midnight Movies," resulted in a Variety review that called the film "nonsensical" and "sickening"). Eventually it was seen — and then nurtured — by independent distributor Ben Barenholtz, who is quoted in "Midnight Movies" saying, "Some people think you can create a cult film, which is nonsense."
That hasn't stopped some filmmakers from trying. "Repo!" is just the latest of example of a film with cult success as its ultimate goal. These movies, good or bad, are always interesting, because if you are courting a cult, you are, to a degree, courting failure, since that's the place cults rise from. You are consigning your film to the cultural margins, not to mention the financial margins (though the people who make these films always seem surprised when they don't make a lot of money).
Before you see "Repo!" (at midnight, no doubt), here are five other movies that have also attempted to become "instant cult classics" with varying degrees of success.
Snakes on a Plane (2006)
Directed by David R. Ellis
After 30 Hollywood studios turned down a script inspired by a story about Indonesian brown tree snakes climbing onto planes during World War II initially titled "Venom," the project eventually coalesced around star Samuel L. Jackson, who was sold on the project when it was pitched to him with four words: snakes, on, a, plane. During the initial stages of post-production, "Snakes"' distributor New Line kept trying to iron out the film's quirkier elements, retitled it for a time the innocuous sounding "Pacific Air Flight 121" and cut down the more adult elements to achieve a PG-13 rating. Then word of the project and that brilliantly stupid title started to hit the Internet and became a sensation; ordinary people with no affiliation to the picture began creating loving odes to the project on blogs or YouTube. Sensing the chance to create a cult hit, New Line reversed itself, added in more gore (like a snake jumping out of a toilet to bite a guy on his johnson), nudity (like a snake jumping out of a toilet to bite a guy on his johnson) and profanity (like the things a guy says when a snake jumps out of a toilet to bite him on the johnson). They even treated "SOAP" fans as unpaid screenwriters and began incorporating their ideas into reshoots designed to beef up the movie's R-rated credentials, including Jackson's signature line, "I have had it with these muthafuckin' snakes on this muthafuckin' plane!" Though all the hoopla added to public awareness for the picture, it didn't translate at the box office, where the film took in $34 million on a $33 million budget before its extensive marketing was added to the equation. New Line sold the movie as a piece of dumb trash then seemed shocked to discover that people tend to avoid movies that they perceive to be dumb trash. In retrospect, it's clear that a lot of this "Internet cult" wasn't really excited to see "Snakes on a Plane," they just enjoyed fooling the Hollywood machine into thinking they were.