"Encounters at the End of the World," "The Spy Who Came in from the Cold"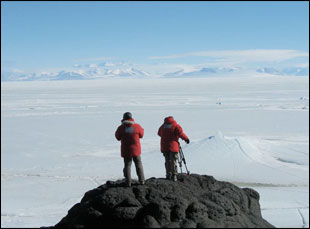 Posted by Michael Atkinson on
It was only a matter of time, after Werner Herzog used the under-the-ice Antarctic footage shot by scientists for his hodgepodge sci-fi meditation "The Wild Blue Yonder," until this most peripatetic of world-class filmmakers realized that the Poles may be the only patches of Earth he hasn't yet roamed through with his camera. Herzog's documentaries, from "Land of Silence and Darkness" (1971) to "Grizzly Man" (2005), are all subjective and full-disclosure, all the time; there is a reality in these films, but it is Herzog's, and that's why we're here. "Encounters at the End of the World" (2007) is perhaps more personal than most — he does not propose any motive for his trip to Antarctica other than his own curiosity, and eventually becomes, by nature, impatient with the large science base he finds there, saying outright that he wants only to get out into the field and find something wondrous that isn't man-made.
The film won't turn casual filmgoers into die-hard Herzogians; what they will find is the most poetic and idiosyncratic of Discovery Channel documentaries. Herzog, like many unique filmmakers, is an acquired addiction, and you need a large shot in your bloodstream before succumbing and enjoying the more modest doses. But the fanboys/girls among us encounter here a Werner becoming increasingly cynical and bitter about human banality in his old age. (Thank heavens — what a depressing time it would be if Herzog softened and became gentler in his autumn years.) The South Pole base's aerobic gym is, for him, an "abomination." The signs of civilized human activity on Earth have always irritated him; now they nauseate the man, in no uncertain terms. But he still loves people, especially outcasts, and the South Pole acts, as someone says, as a kind of catch basin for oddball wanderers of all types, where "all the lines on the map converge," and Herzog finds "the Ph.D.'s washing dishes and linguists on a continent without languages," the Bosnian who keeps his life packed in a bag for an instant escape, the seal researcher who's forgotten how to converse, an alarmingly nomadic woman who can pack herself into a suitcase, and so on. The absurd image of a training session in which a line of adults attempt to find their way across the daylit camp with "snow blind" buckets over their heads is of endless fascination. Warnings about global warming are built in, of course, making Herzog's age-old disgust at modern society seem like prophecy. But Herzog is more interested in the remoteness as it stands in contrast to the human inhabitants; he keeps cutting to the mournful silent footage of the Shackleton expedition, ruing the occupation of the Pole and the loss of the global maps' mysterious "white spots."
Herzog derides the cute documentaries "about penguins," but cannot ignore the birds; typically, he finds one that determinedly marches out into the wasteland to its doom. The surreal underwater footage of fields of poised star fish and perambulating clams also find pride of place, along with the audio discovery of Ross seal calls, which sound like nothing so much as psychedelic synthesizer experiments. It's easy to take Herzog for granted, because his films are so organically expressive of his impulsive interests. But is there another filmmaker alive you'd rather follow to the world's four corners? Is there another that dares to go, and frame the world for us in a way that gives it meaning?