Arnaud Desplechin on "A Christmas Tale"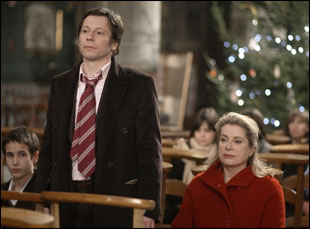 Posted by Aaron Hillis on
November may be too early to call it, but as of now, this writer's favorite film of the year has more in common with "The Family Stone" or "Home for the Holidays" than most European filmmakers' oeuvres — but it certainly ain't a product of Hollywood. Written and directed by the tremendously gifted, expectation-defying auteur Arnaud Desplechin ("Kings and Queen," "My Sex Life… Or How I Got Into an Argument"), "A Christmas Tale" doesn't just freshen up the holiday reunion melodrama. Rather, it reinvents the overplayed genre into a novelistic epic; a banquet of exhilarating sights and naked emotions; a rich ensemble piece so joyous and heartbreaking that any lucid description is bound to get a bit purple. Set in a provincial French town, the film introduces the fractious Vuillard family (including some of the country's finest actors: Mathieu Amalric, Chiara Mastroianni, Melvil Poupaud and Emmanuelle Devos) as they reunite after several years, then learn that matriarch Junon (Catherine Deneuve) will die without a bone marrow transplant. Bickering and boozing under the same roof, tensions build, secrets are unveiled and resentments both implode and explode, but Desplechin's idiosyncratic filmmaking dazzles in such dense detail that a single viewing can't possibly reveal all the film's treasures. (See what I mean? Purple.) With a little help from a translator, the quite amiable Desplechin and I chatted last month about the film's distinctly American genre, why Michael Mann fascinates him and Angela Bassett's derrière.
At the beginning of the film, Vuillard patriarch Abel delivers a eulogy about the death of his first-born son, and if I'm not mistaken, it seemed joyous. Was I not picking up something?
I can't pick it up either. The words actually come from Ralph Waldo Emerson's diaries, and it's what he said upon the death of his child. When he said those words in Concord, it was a shocking thing to hear then, too. He was trying to make something negative into a positive, or to find something positive in what was basically negative. When I came across this, I didn't know what to make of it. I thought it had both poetic and even dramatic value, and through an actor might come to have meaning.
You have this man saying, "I'm not sad." It's not lying; it's fighting against the idea of mourning. 20 years after that, all his family is mad. [laughs] But it's in a nice way, because all of them are contesting their own sadness, saying: "I don't give a shit." That's what Emerson was calling the New World. It's creating a new world because of the things that are unpardonable and the things that can't be recovered. Of course, there's a grotesque aspect because you have this little provincial town in France, where each of the members of this one family is trying to construct their own new world. I think that's nice. That's my way of understanding Emerson's life.
That also explains a momentarily seen homage I didn't catch the first time: a movie poster for Terrence Malick's "The New World." In another interview, you mentioned that you write action before characters. Could you elaborate?
It's difficult to express that. What I could say is I'm not able to write "here you are" with a character, walking in the street, this guy talks like this or like that. Until I film him, I don't know him. Is he gloomy? Funny? I can't see a thing. To give you an example: In the beginning, when Abel is speaking about mourning his son, he says, "My son detached himself from me like a leaf detaches itself and falls from a tree." If you hear this, you might think that this is really cruel. How could he say such a thing? But working together with the actor, Jean-Paul Roussillon, we looked at it. You can see that here's somebody who turns out to be quite maternal. He's the one who mothers his family. Once you see him that way, perhaps what he says before becomes a little more understandable. It doesn't have the cruelty that you thought it had at first.
There are so many richly developed characters in this ensemble. Working the way you've just described, how do you juggle them all and still maintain a believable complexity?
That's very hard to do, to keep all the balls in the air at the same time. What you have to do is make it work for all the parties that are involved, for the viewers, but also the actors and technicians so that they work together and enjoy what they're doing. You try to work out all the variations in the scenario while writing the screenplay. I had to decide, well, who would be the person who would be sick? Who would give the marrow for the transplant? In the end, I had 32 possibilities. One possibility is Ivan. One possibility is Henri. A third possibility is Henri plus Ivan. You try all of them.
It's like solving a creative equation.
Yeah, and then at the end of it, you finally choose one person. But this process that you've now gone through with all of these characters has enabled you to understand those characters, too. Then we come to one of my favorite parts of the production, which is the point just before we begin shooting, where we're scouting out the locations. I'm with the crew, the D.P., and we're looking at everything — will this work? We put the gestures in, and it's almost as if we're replaying the screenplay without completely trusting it.