"Nick and Norah's Infinite Playlist"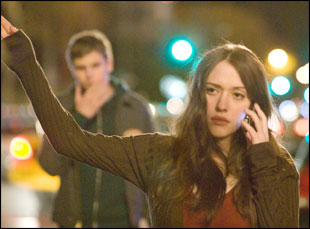 Posted by Matt Singer on
With its title and indie rock soundtrack, "Nick and Norah's Infinite Playlist" tries to pass itself off as the underground music lover's dream romantic comedy. But while its characters claim to listen to music and even occasionally play music, they never talk about it in any convincingly intelligent way. Nick (Michael Cera) and Norah (Kat Dennings) have exactly one minor conversation about the thing that allegedly is the source of their magical compatibility. Nick supposedly makes the best mix CDs with clever titles like "Road to Closure: Volume 2"; we don't hear them. He loves an elusive but supposedly incredible band called Where's Fluffy; we don't hear them. The movie is like a kid who likes to wear the T-shirts of cool bands but doesn't actually listen to their albums.
Nick is the only heterosexual member of a band named The Jerk Offs. According to the press notes, they're part of a "queercore" movement in New York City — not that the movie uses that term, or any term, to describe their sound. We've got to make do with what we hear from their one brief performance at Arlene's Grocery on the Lower East Side. It's there that Nick runs into his cruel ex-girlfriend Tris (Alexis Dziena) who also enjoys bagging on her classmate Norah's single girl status. To deflect Tris' insults, Norah impetuously drafts Nick as her stand-in boyfriend and one magically spontaneous smooch later, the duo are off in his yellow Yugo for a night of wacky misadventures through Manhattan's club scene.
"Nick and Norah" is the type of movie that reminds you of other better movies. It keeps forcing you to compare it to other things and none of them work in its favor. The musical elitist milieu reeks of "High Fidelity," but doesn't boast that film's convincingly snarky dialogue or its flair for romantic gesture. The title alludes to the witty repartee of "The Thin Man" series, but Cera and Dennings, attractively likable as they are, can't hold a candle to William Powell and Myrna Loy's chemistry or banter. The Jerk Offs open for Bishop Allen, whose lead singer Justin Rice was the star of a far superior movie about New York's indie music world, "Mutual Appreciation." There's a scene in a public toilet that calls to mind "Trainspotting" and a bad parallel parking gag that recalls "Annie Hall."
With one great performance after another, Michael Cera's built up an air of infallibility during his relatively short career; "Nick and Norah" proves to be his first true stumble. He's become quite adept at playing the awkward teenager; maybe a little too good. He's called upon in "Nick and Norah" to be a bit more of a brooding, artistic type and it doesn't suit him or his brand of self-deprecating comedy. His Nick isn't even moody; he's just disinterested, even when he's got two beautiful girls fighting over his affections. He hasn't done any favors by the screenplay either, which offers him few opportunities to be passionate about anything, including his music.
The film's director, Peter Sollett, has a good feel for the vibe of a certain kind of ironically detached New York nightlife and an empathy for his characters' teenage desires that's refreshing in the face of so many high school movies that preach to (or worse, demonize) their audience. There's one scene on a pier between Nick and Tris so full of unspoken sexual tension and clever visual flourishes (a lipstick kiss on a windshield, a wiper quickly removing it) it makes you wonder where that energy went during the rest of the film. Perhaps it was put into the soundtrack, which features wonderful songs from We Are Scientists, The Dead 60s and Paul Tiernan, amongst others. None of them are discussed, but they're there, on the Road to Closure.