"Flight of the Red Balloon," "Mystery Science Theater 3000: 20th Anniversary Edition"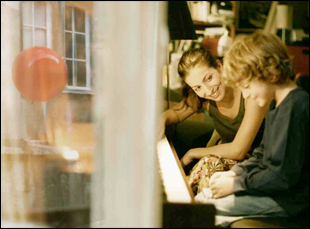 Posted by Michael Atkinson on
What is it that Taiwanese master Hou Hsiao-hsien does, exactly? Characterize it however you can, Hou-ness has the delicacy of a paper butterfly, and can easily be squashed by impatience or insensitivity. Let's begin by dumping the unhelpful category "minimalism" — Hou films, as with Ozu's and Tsai Ming-liang's and Apichatpong Weerasethakul's and Abbas Kiarostami's and Carlos Reygadas', can hardly be summed up as having relative dearth of material within them; usually, they are spectacularly rich and sometimes inexhaustible. As viewers in this rigorous corner of film culture — the cinema of real time and actual space and mysterious unseen forces — we help drive the bus, we are not merely passengers. (As J. Hoberman wrote about "Flight of the Red Balloon," the new Hou film "encourages the spectator to rummage.") Hou is very much the paradigm's Renoir, its master of lyrical sympathy. His slow-moving camera (never dictating the action but, rather, cautiously circumscribing it), his long observational passages, his respect for real behavior (so real people often simply play themselves), his modest metafictional slippages, his daunting evocation of off-screen space — all of it amounts to arguably the most humane vision at work in today's moviescape. That's what passionate Hou-istes are getting at when they kvell about films that might seem — to dedicated fans of "The Dark Knight," say — to be films about next to nothing: they're talking about an understanding of life, not a distraction from it.
"Flight of the Red Balloon" is a slightly different kind of Hou movie — shot in Paris as a commissioned project to remake Albert Lamorisse's beloved 1956 short "The Red Balloon." But in the watching, it's Hou distilled, indulging the rambling metaphor of the self-motivated balloon as an observer — like Hou, and like us — of a random slice of modern urban life. This wedge revolves around an emotionally rocky actress/performance artist (Juliette Binoche), her rather Scotty Beckett-ish grade school son (Simon Iteanu), her absent husband, her goldbricking tenants (in a second apartment downstairs) and Taiwanese film student Song Fang, playing herself, who begins as the boy's workaday nanny, as she simultaneously remakes Lamorisse's film herself, with a handheld DV camera.
The nuances in this mishmash of relationships are gradually revealed, but none of it amounts to high theater — it's just life, full of disappointments and incidentals, piano lessons and crepes, petty frustrations and wholesale raptures (Binoche's hot-blooded mom, coming apart at the seams under the strain of not knowing whether or not her husband will ever return from his artistic pilgrimage, gets lost in her theatrical vocals for a Chinese puppet performance). The manner in which Hou shoots this weft is inherently kind: at a relaxed distance, from room to room, patiently, nonjudgmentally. In almost every way, the film climaxes with a breath-robbing eight-minute one-shot scene in which the mom handles a phone call from her college-age daughter in Brussels, a blind tuner attends to the family's pivotal piano, the tenants disrupt the cluttered apartment's equilibrium, and the little boy tries to ignore it all. Hou's camera tiptoes around like a tolerant family member, shifting perspectives, and the purpose of every reframing is compassion, not dramatics.
So many critics, so lost at sea. "Flight of the Red Balloon" may not be overwhelming Hou, relatively speaking, but it's still prime rib at a buffet of gruel. It's hardly about "loneliness," as even the ardent reviewers have claimed (the minor-key loneliness found and often obliterated in even dysfunctional families is a factor, but one of many). Nor is it about "the spirit of childhood," pace the Times's A.O. Scott, writing about a film in which the child character rarely gets a close-up and is not the primary point of view. Hou is that rare animal, a filmmaker who creates his own way of invoking reality, and the American mainstream's fluency with nuts & bolts three-act formulas does not help us come to terms with him.