No More Moore! Onscreen Beefs With Michael Moore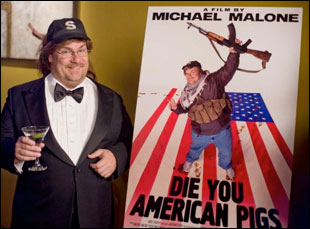 Posted by Matt Singer on
According to the trailer of David Zucker's new comedy, "An American Carol," "America's most infamous filmmaker — totally arrogant, completely clueless — [has] finally gone too far." Of course, Zucker, a former liberal activist who became a "9/11 Republican," is referring to Michael Moore, the inspiration for the central character in "An American Carol," one Michael Malone (Kevin Farley), a filmmaker who's visited by three Dickensian ghosts after he demands that July 4th be abolished ("I love America. That's why it needs to be destroyed!").
Zucker's spoof is perhaps the most high-profile film to take on Moore, but it's by no means the first. In fact, in the last four years, Moore's work has inadvertently given birth to an entirely new strain of conservative filmmaking whose sole mission is to discredit him by taking issue with his documentary aesthetic, his politics, his personal success, even his physical appearance. Here are some notable examples:
"Michael Moore Hates America" (2004)
Directed by Michael Wilson
Made in Response to: "Fahrenheit 9/11" (2004)
The Beef: "Michael Moore has pissed me off," intones Michael Wilson in the opening lines of the voiceover for his film. "This guy has painted a picture of my country as a place where nobody can succeed." To counteract that picture, Wilson interviews experts on the documentary form (Albert Maysles) as well as people who aren't pleased with how they were portrayed in Moore's films, such as Peter Damon, an injured Iraq war veteran who took issue with the way Moore used recycled news footage of him to assert that veterans were being forgotten by the Bush administration. Wilson also tries repeatedly to secure an interview with Moore, à la Moore's own attempts to speak with General Motors CEO Roger Smith in his film "Roger & Me."
Does the filmmaker appear on camera? Yes, intentionally or not, wearing the same sort of ratty jeans and hoodie sweatshirts that Michael Moore wore in "Roger & Me."
Does Michael Moore? Yes, via an impressive array of stock footage. Wilson unearths all kinds of embarrassing clips of Moore, including a particularly shortsighted one where Moore, circa 1992, declares that Bill Clinton has absolutely no chance of beating George Bush in an election. Wilson's only direct contact with Moore comes right at the top of the film, when he takes the microphone during a Q&A at a Moore lecture, announces his film's title and asks the filmmaker for an interview. Moore's angry response — "Everything I do is because I love America! It's people like YOU that hate America!" — cuts to a shot of Moore telling a British audience, "Americans are the dumbest people on the planet!" Wilson also includes several other pieces of television footage of Moore alternately bashing the making of "MMHA" or pretending he doesn't know anything about it.
Targets Besides Michael Moore: Wilson himself — after an awkward interview with Joe Scarborough for MSNBC, he admits that he did "horrible."
Strangest Moment: When Wilson claims that the impetus for this project came when he realized that Moore's work was having a negative impact on his daughter. Wilson, a new father, believes that his daughter can become anything she wants to be. "But Michael Moore," he says, "through his films and books, had told [my daughter] that she couldn't." But Wilson's daughter, as seen in the film, is a newborn baby. Moore's expanded the audience for documentaries, but he hasn't tapped into the pre-teethers yet.
A Filmmaking Lesson: If you want to get an interview with somebody, don't put his name in the title along with the phrase "Hates America." Why is Wilson so surprised that Moore won't speak to him when he himself is so embarrassed by the film's title that he's hesitant to even tell people what it is when he's asked about it on camera?