Kristin Scott Thomas in "I've Loved You So Long"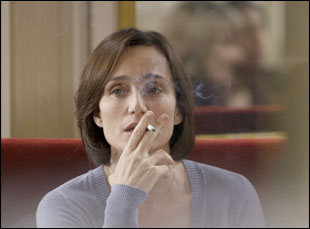 Posted by Michelle Orange on
I can count on one hand the number of times the sight of a woman has completely taken my breath away: my aunt, drinking coffee in our home when I was a child; a teenage friend laughing in a parking lot, at night; a tired-looking French woman buying cotton balls in a Paris department store; my cousin, walking down the aisle at her Florence wedding; and Kristin Scott Thomas, turning from the window of a Manhattan hotel room to greet me. I don't know what I was expecting — certainly not the drably dressed, makeup-less, slightly crabbed figure she cuts as Juliette, the tormented ex-con at the center of Phillipe Claudel's "I've Loved You So Long" — but if, at 48, her beauty remains surpassing on screen, it's a little crushing in person. Standing about six inches taller than her wont in an astounding set of black patent leather platform stilettos, Thomas seems to embody her rather towering year: after playing the role of Arkadina in the London production of "The Seagull" to awards and acclaim, she was asked to join the Broadway cast, which opened to only slightly less enthusiastic reviews this month; and her stand-out performance in this spring's "Tell No One" was a precursor to perhaps her finest work, playing a French woman recently released from prison after serving 15 years for the murder of her son in Claudel's small-m melodrama. After negotiating how to best lower one's self into a deep-set couch while wearing such preposterously hot shoes (answer: switch to the armchair), Thomas offered some thoughts on the film, her character and New York audiences.
Is this the first time you've lived in New York for any length of time?
A long time ago my husband was sent here to do research, and I lived here then, but that was 16 years ago. And I've made various films here, but I've never done a Broadway show, you see, and I just love that. It is such fun.
How do you find the theatre schedule, as opposed to that of a film set?
With the theatre, your whole day is geared towards the evening's show, and that's the job. People usually go to work about 9 and come home around 5, or maybe 7. [In the theatre,] that's what we do in a concentrated three or four hours. It's very high pressure. But this particular piece, this Chekhov play is so brilliant and so extraordinary, and that's a pleasure every night. And meeting the audience every night is a pleasure, especially New York audiences, they're just so receptive and so reactive.
Does that differ from London audiences?
I think London audiences are more reserved. But also in London, it was a much smaller theatre, only 375 seats or something, so this is twice that size. The stage is much bigger, so you have to make everything a little bit bigger. But it's a wonderful theatre, and of course, what's so great is that because New Yorkers are so up front, they will accost you in the street and say they've seen your show and you were fantastic or [makes a blank kind of moue] not. I love that.
Your performance as Juliette in this film is strikingly minimal, it's interior and self-contained — in fact, much of it is silent. There couldn't really be a more opposite end of the acting spectrum than what a stage performer has to do to draw an audience in — how have you mastered both and is it a difficult transition to go back and forth? Not many film actors can manage it so successfully.
I made this film directly after I finished "The Seagull" in London. I think working the theatre, on the stage with other actors, working with rock solid, beautiful language, just enables you to free up and become more confident as an actor. To play [Juliette] I needed a certain degree of confidence, I suppose, because there isn't that much dialogue. There was more, but Phillipe and I decided to take it out because we felt that you could see it and not say it. I think working in the theatre builds your acting muscle, and you become fitter, so therefore you can go off and do something like this.
And maybe have the confidence to say to your next director, "I don't actually need this line, I can give you what you want without it."
Yes, maybe. But also, you know, I was a bit, I suppose, full of myself, because I'd made a certain number of films and Phillipe hadn't, so I was able to say [bears up and holds forth] "Well, if I were you…" Which was probably poison for him.
What do you mean?
Well, he probably hated that.
I would think he'd be receptive, because you have had more experience.
Oh, he was very receptive, but I mean it must have been infuriating.
In some ways it fell to you to telegraph Juliette's interior life bearing the full burden of information about what actually happened. The audience is let in on her secret slowly, over the course of the film, at the same time that her family is — the audience is not allowed to be your ally, in other words, and I wondered if knowing that came to bear on your performance at all.
But you see I don't think that's my job, I think that's the editor and the director's job. I deliver the raw the material and they put it all together.
You have mentioned that the one thing that can make you uneasy or hard to deal with on a film set is a lack of trust in your director. Because this was Phillipe's first film and he is a novelist by trade, was achieving that trust a struggle or was it instinctive?
There was trust, because we all had confidence that what we were doing was heartfelt. Well-meaning is the wrong word, but it came from deep down. It's true, in the beginning he was a little bit– because he's used to writing, and writers use their head and then their pen and that's that. He wasn't used to delegating, but he picked that up quickly.
He has mentioned a technique that involved slipping you haikus and cryptic, kind of touchy-feely notes to get you into character, I was curious how that went over with you.
That happened because in the beginning I asked him not to talk to me. I wanted the first take to be mine, and then I said he could do what he liked. So I think out of frustration he started sending me these notes, and after a while, you know, he stopped.