Interview: Eugene Hütz on "Filth and Wisdom"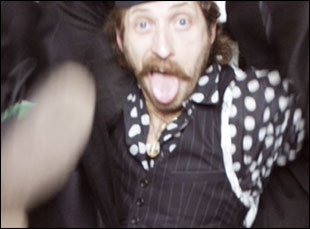 Posted by Aaron Hillis on
King of the gypsy punks, Gogol Bordello frontman Eugene Hütz has fast become known as one of indie rock's highest-energy performers, his multi-ethnic rebel band's rollicking accordion-and-fiddle swagger raising the room's temperature while Hütz swings from the rafters. (There aren't enough superlatives to do their staggering live shows justice.) Yet some might better recognize the Ukrainian emigrant-turned-downtown New York icon from the cinema, not least because he had to shave his renowned curly mustache for Liev Schreiber's 2005 directorial debut "Everything Is Illuminated." As Alex, the blinged-out Michael Jackson fanatic and Ukrainian tour guide to Elijah Wood's visiting Jewish-American nerd, Hütz hilariously steals the show faster than you can say Jonathan Safran Foer.
Leave it then to Madonna to seek out what lies between the fascinating facts and fictions of Eugene Hütz. The pop legend, still reinventing herself as a 50-something Material Girl, will surprise quite a few with her directorial debut, "Filth and Wisdom." Both funnier and more entertaining than this writer might've imagined, Madonna's scruffy, sexy, low-budget charmer stars Hütz as narrator and one of three struggling roomies seeking out their dreams in London. His name may not be Eugene, but Hütz's character "A.K." is a semi-autobiographical creation: an aspiring musician with an immigrant's background, a band called Gogol Bordello and a day job as a dom who humiliates his all-male clientele… okay, perhaps we can attribute the S&M fantasy to Madge. A few hours before "Filth and Wisdom" had its star-studded New York premiere, I sat down with Hütz to yak about the film, politics, perversions and mustaches.
You don't share a writing credit, but A.K. is clearly based on some of your real world experiences. Specifically, where's the line drawn between this film and your life?
Honestly, who fuckin' knows? [laughs] I think the line between that gets mystical right away, what comes from where, because we didn't have a lot of time to make this film. I was there for three weeks. As you can tell, there is stuff that is purely autobiographical, and then lots of funky abracadabra in the mix. Not just the relocation to London — that's almost insignificant. We were having fun and taking liberties as we were going along. It was just gonzo beatnik style, you know?
In her director's statement, Madonna compared the experience to being put through film school. Having been on a film shoot with a bigger budget and crew, what would you say the pros and cons were to working on this smaller, more D.I.Y. project?
Well, the advantage was I didn't have to change my look. Also, nobody set me aside and applied disciplinary measures. [laughs] Or, try to put me back on a schedule with the rest of the world. Sometimes I don't go to bed for two or three days, and that's the way my life is. I still can pull through. So I was completely free with that, with my flow.
But they were both classes of film school, you know? The major difference is that "Everything is Illuminated" was a lot more intricate work, where I had to absolutely invent the character, as much as all the writers were convinced that they were going to actually meet Alex when they interviewed me. That never happens — I hate to bum you out, guys. That was an absolute creation. It has nothing to do with my biography. Here, I didn't really have time to piece anything together. I stayed in the mode of rock 'n' roll musician, and there were things that I wished were presented more explicitly.
Such as?
Just the desperation, you know? This film focuses on the stage of life when you're in a mode of soul searching, and existentialist rage is just on the surface. But maybe there could be more rage expressed, because that's how I remember it. [laughs]
You've described Gogol Bordello as a collective, both musically and politically. How so?
It pretty much speaks through everything we do. It's nine people who are all from absolutely different parts of the world: Africa, South America, Eastern Europe, very far Russia — I'm talking about Siberia — Scotland, the States, Israel. We live in a political world, and those areas are the most politicized, and on opposite sides of the political spectrum. We were all raised in a Cold War, actually. It robbed our childhood. Back when every single hockey game on TV was extremely political because like, okay, Russians are playing Canadians. Now it's like, who cares? But back then: "Wait, Canada is next to the States, so fuck them because those guys are about bombs." Everything was so intense and edgy and hateful, you know?
So for us to come together and amalgamate into this family, where that's all left outside, I'm amazed about that every fuckin' day. That shows that politics don't exist, actually. It's just a cheap business. Economics is what makes politics. Oil has a price, everybody's fighting over that. Soon it's gonna be water, and the same thing is going to happen over that. But for us, people who realized that, there is no conflict. Obviously, we live together on the road, of course we argue; of course we get into rowdy situations. But it never seems to be over politics. That's the last thing on our mind. It's more like we're a collective both musically and anti-politically, to make it more correct. It just proves a point how overblown this place of politics is in life, and how force-fed it is.
I, on the other hand, find myself reading about the corruption and idiocy causing our ongoing economic crisis and think: "Holy crap, we're all doomed."
No, because any day a meteorite can hit the motherfuckin' earth and liberate everybody from this doom. [laughs] Many things can reshape things. People are obsessed with their supposed powers and what they can really do. That's something that I've been realizing more and more on a daily basis: Yeah, it's getting harder to believe in an actual embodiment of some new profound social organization through one massive change because, already, a lot of revolutionary thought discredited itself through history. But millions of small changes can be done, and through that, there can be a bigger impact because anybody can talk to another person. Anybody can educate somebody if they feel like their neighbor is stupid. It's more like "Educate thy neighbor, my friend." I think that enthusiasm, and not giving into lazy-minded cynicism, is where the potential and hope is.
When collaborating with Madonna, whether it's this film or onstage, what do you both bring to the table to best take advantage of your creative strengths and weaknesses?
What weaknesses? What the hell are you talking about? [laughs] You know, this whole swirl of doing things together was so spontaneous. Five days before the Live Earth concert happened, I didn't know anything about it. It was an on-the-spot decision, so I think we just wanted to blow people out of the water in a way that nobody expected. What we did was obviously done by people who had a lot of fun, as unconnected as [the collaboration] seemed at first. Like Joe Strummer was saying: "Of course, rock 'n' roll is our weapon, but don't kid yourself." It is also just rock 'n' roll, a huge part of which is intellectual and physical entertainment. It is done by people who are essentially performers, somehow linked into theater.
For me, the criteria was: How enlightening can you make your entertainment? How subversive and how brutal can it be? Even the musicians who scored the greatest radical reputations — like Bob Marley and Jello Biafra, for example — were very aware of theatrics and its actual presentation. Actually, I just met Jello Biafra for the first time. He was at our show in San Francisco. That's my childhood hero, and we talked about this because all stage tactics are employed to channel a school of thought. Delivering a dry message in a pretty way, who the fuck needs that? That always gets on my fucking nerves when people get like that. Some of the best rappers get like that. I think our philosophy is more of throwing all these things on the table, like a playground of multiple options that is hopefully inspiring and entertaining.
Every time you popped up on-screen in another of your S&M role-playing costumes, I was just cracking up. In our desensitized society, is anything truly perverse anymore?
The desensitization itself is the perversion. For example, ['80s Cinema of Transgression filmmaker] Nick Zedd, coming out with his stuff in that time was extremely subversive. It challenged the remains of the plastic façade, the "Totem of the Depraved" that had the power. Now, the fucking mainstream television is the Totem of the Depraved. The good news is that it's just a passing point in evolution. I don't know if we'll get to see the better stage in our lifetime; evolution is so fuckin' slow. That's why I'm constantly coming back to ideas of internal, personal revolution. Even if you can't speed up the world, I want to see it in my lifetime, you know? I know other people who do, too. I mean, I don't want to get into post-humanism, transhumanism, and all those things that might be too far out. We're certainly not going to see that, but sometimes I think we're still living in some fuckin' invalid times, you know? I think we can do a lot better and enjoy a lot better.
Lastly, what's the trick to maintaining such an amazing mustache?
Not doing shit, man. That's the trick.
[Photos: Eugene Hütz in Madonna's "Filth and Wisdom," IFC Films, 2008]
"Filth and Wisdom" opens in New York on October 17th; opens in Los Angeles on October 31st.