Lou Adler on "Ladies and Gentlemen, The Fabulous Stains"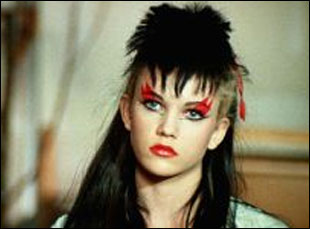 Posted by Nick Schager on
How did you decide to cast Lane?
I liked her in "A Little Romance," which showed that she could act. She had a certain quality about her in the meetings that was tough and vulnerable at the same time, which is unusual for a 15-year-old. That was what we were looking for. We were looking for that vulnerability, but also somebody who could be very tough when she had to be. Diane seemed to have those qualities.
How tough was it convincing punk musicians to take part in a big studio film?
Surprisingly easy. When I look back at it — to be able to get two of the Sex Pistols, and Simonon from The Clash, they were just coming from the right environment from the music scene, to understand what we were trying to do within [the story's fictional] groups. I look back and am sort of surprised that it was fairly easy to get them. I'd only done one film before that, so it's not as if I was a director that they knew. Fee Waybill, who is really great in the film, he was an easy choice for that, because of the work that he did with the Tubes.
What compelled you to make a film about punk rock?
You know, I was making a movie about the music industry. Even though the film was probably originally written as a punk film, the film that I saw in it was much broader than that. It also took in the exploitation throughout the industry, and also the media. Those were the things that attracted me to the script.
It strikes me as particularly cynical about the industry.
I didn't realize I was that cynical until I made the film.
So you didn't set out to make a critique?
No. As I said, it was the second time I had ever directed a film. I was pretty much going on instinct and knowledge of the music business and knowledge of the different types of music groups. My interpretation of the script probably was a little softer than the script itself, but it was much more from an insider perspective, seeing those things happen from the inside. And not with a cynical attitude towards them, but just wanting a chance to explore them — or expose them. But I wasn't trying to make a statement that it was wrong or right. I just wanted to show it.
How did your experiences working in the music business inform the film?
I think I was on both sides of it. I think I was probably one of those that exploited, and one of those that had seen exploitation. It was just the way the industry ran, and it's not to say that it's right or wrong. It's like I said — I was probably a part of it. I produced and managed groups, and I probably did some of those things. That's why they were easy for me to put on film. Or, at least, I was accused of doing some of those things.
What was the music industry's response?
I don't think anybody knew I made the film. [laughs] I don't think there's been a comment until now. Really, the film was probably screened in a theater once, and then really late night cable. So the people that found it definitely weren't the executives at record companies.
Did you always plan on ending the film with the Saints music video?
No. [laughs] And if you ask me today why I did it, I don't know that I can answer the question except to say that I could have ended the film before that, and probably had a more subtle way of showing that the group had some success when it came over the boombox. But sitting around for a length of time, I just decided to really show it. It might have been that I had the idea of the Andrews Sisters. I don't know. A lot of it is so far back, I don't recall why I did that. But obviously, it was to show the success of the group. It was sort of tailored after The Go-Go's, who were big by that time.
Do you feel any differently about the music industry today?
There's a very thin line between promotion and exploitation. My son, Cisco Adler, is in a group called Shwayze, which is doing really well. And I've watched the label, Suretone, promote that group over a year before the release, which is today's music business. There's a thin line, but it is promotion. It's how you do it. Who's doing it and what their reasons are…the person that was doing it with the Stains also did it with the group before, and he shows that he would do it with a group in the future. He had no particular passion for the group. He had passion for exploitation. I think it's different now, although I'm not that active in the music business anymore.
To what do you attribute the film's enduring popularity?
I think we hit a nerve with girls, and some of the girls who became rock stars, Courtney Love and others like her, were real fans of the film. If somebody connected that [Courtney Love and the film], they became fans of the film. If they could see who Courtney Love was — what she was thinking about, how she acted, how she dressed, what her attitude was — we showed that attitude in the Stains film. And that must have hit a nerve. Because I heard back mostly from women. Although Jon Bon Jovi is a big fan — I think he has a Stains tattoo, in the same way that we use it in the film. But I think he also dated Diane Lane for a while.
[Photos: "Ladies and Gentlemen, The Fabulous Stains," Paramount Pictures, 1982]
"Ladies and Gentlemen, The Fabulous Stains" will be available on DVD on September 16th.