Lou Adler on "Ladies and Gentlemen, The Fabulous Stains"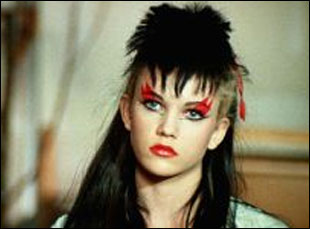 Posted by Nick Schager on
Most film fans have never seen 1981's "Ladies and Gentlemen, The Fabulous Stains," the hard-charging, potent tale of an all-girl punk band's meteoric rise and fall, which featured supporting performances by members of the Sex Pistols and The Clash (and a young Ray Winstone, who played the lead singer of the Stains' tourmates The Looters). That's because Paramount Pictures never saw fit — save for a couple of random screenings — to give the film any sort of theatrical release, or even put it out on VHS. Yet despite the studio's attempts to forever shelve the film, it (like punk) wouldn't die, finding renewed life through bootlegs and airing on USA Network's "Up All Night," where frequent broadcasts of the film during the midnight shift helped turn it into a cult classic that would later influence, among others, future riot grrrl pioneers Courtney Love, Bikini Kill and L7. That underground popularity will finally pay dividends now that Rhino's released "The Fabulous Stains" on DVD, an event sure to be celebrated by the film's ardent fans, as well as its director, record producer and music business manager (not to mention helmer of Cheech and Chong's "Up in Smoke") Lou Adler, who I recently spoke to about, as he sarcastically put it, the film's "immediate" release.
It's been 26 years since you completed the film, how do you feel on the eve of its home video debut?
I just dropped a note, along with a copy of the film, to [former Sex Pistols guitarist] Steve Jones and wrote "Finally" on it. Because even the cast members who I would talk to from time to time, and especially Steve — the only thing he ever saw was a few lines off of cable.
How happy are you with the job Rhino has done with the DVD?
I think they did a really nice job. Rhino sort of took the lead on this, because we tried for a long time to get it out at Paramount, but it never had much — any — success. When Rhino came along and actually was able to get it — I think they did a really good job. And being able to get Diane Lane and Laura Dern to come in and do a commentary after all these years was great too.
Why now? Why were these efforts to get it released successful?
Paramount, for whatever reason, just didn't see any reason to put it out. And Rhino, who deals with this sort of thing, understood that there was an audience, however small — that there is a so-called "cult" following and it's worthwhile having it on the market. That's the only reason. It would not have been released by Paramount.
Why exactly did Paramount bury it?
Well, I think the real question is, why was it even made? I think [Paramount] did it for two reasons. One, the writer [Nancy Dowd] was an Academy Award winner [for "Coming Home"], and I'd just come off the success of directing "Up in Smoke." And those two elements — you can see the psyche of the studio, that says "let's make it!" even if they don't understand it or know how to market it. Once it was finished, they'd done their work, they didn't have to do anything to protect the jobs that had to be protected. So the film just lay there. They didn't do anything with it.
What are your most vivid and/or fondest memories of the shoot?
I think they're probably the same, vivid and fond. They're that I had 14 people in the cast who hadn't done a film before — or had done one, in the case of Diane. And a lot of rock n' rollers, because of Paul Simonon from The Clash and Cooky and Steve Jones [from the Sex Pistols]. Ray Winstone, who has turned out to be quite an actor, the fact that he wasn't really a singer, but he had a real attitude and was able to take the position of the lead singer of this group, which was made up of guys who had been rock stars. There just was a camaraderie. We were on location, most of the time in Vancouver, and staying in the same apartment building. It was just a bonding with those kids, if not always the rest of the cast. We had a situation in which we had a group of people who had worked a lot, and then we had the ones that were doing their first film.
Did that situation cause any tension?
Well, it caused some tensions, which sometimes works for the film. There were definitely tensions on that set. John Lehne, Cynthia Sikes, David Clennon and Peter Donat — they had all worked quite a bit in film. But everyone playing the musical acts, down to Diane Lane, who had done "A Little Romance," had at most done one picture before. I mean, Diane was just turning 15, and Laura Dern was 13.