Tori Spelling does H.P. Lovecraft, Steve Coogan's sexy Jesus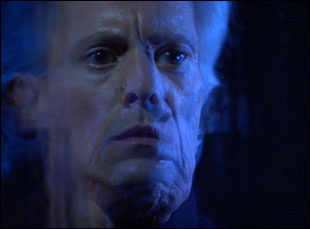 Posted by Neil Pedley on
This week finds Shakespeare meeting Sexy Jesus, a crash course in Czech history alongside a totalitarian demolition derby, apocalyptic sea monsters and Fred Durst trying to get in touch with his fuzzy side.
"Cthulhu"
Director Dan Gildark certainly isn't lacking for confidence. Whereas most first-time filmmakers would turn to the well-worn territory of twentysomethings and their quirky quarterlife crises for subject matter, Gildark has opted to tackle H.P Lovecraft's sprawling, heady, quasi-religious mythos from the short story "Shadow over Innsmouth" instead. Jason Cottle stars as Russ, a history professor who returns home to Oregon to execute his late mother's will and discovers his father is the leader of the coastal town's apocalyptic cult that centers on the fabled Cthulhu, an extraterrestrial deity that exists in a state of torpor at the bottom of the Pacific Ocean. When Russ learns a mass sacrifice may be in the offing, he must find a way to stop it…and fend off the advances of co-star Tori Spelling.
Opens in limited release.
"Death Race"
Depending on your affinity for Paul Bartel's cult 1975 nihilistic satire, "Death Race 2000," this "re-imagining" from "AVP" writer/director Paul W. S. Anderson could either be entirely exhilarating or wholly blasphemous. Anderson's mish-mash of "Mad Max" and Mario Kart finds Jason Statham as the wrongly convicted former NASCAR champion forced into servitude by Joan Allen's sadistic corporate prison warden who holds his family captive. Although David Carradine was no family man in the original, Statham steps into his shoes as the fascist government's talisman warrior, Frankenstein, and competes against a cabal of the most violent and skilled drivers in a deadly race designed to satiate the oppressed masses.
Opens wide.
"Hamlet 2"
British comedy veteran Steve Coogan follows up his supporting role in the high profile "Tropic Thunder" with this leading turn as Dana Marschz, a painfully inept drama teacher stationed in Tucson, AZ whose latest production of "Erin Brockovich" is panned by the critic of the school newspaper. With the school's drama program in jeopardy, a deluded and defiant Marschz fights for the right to stage a controversial production of "Hamlet 2," a rock musical follow-up to Shakespeare's tragedy, complete with a show-stopping "Rock Me Sexy Jesus" finale. Catherine Keener, Amy Poehler and Elizabeth Shue (as herself) co-star in "Dick" director Andrew Fleming's latest.
Opens in limited release.
"The House Bunny"
Co-scripters Kirsten Smith and Karen McCullah Lutz clearly had a few ideas left lying around after penning "Legally Blonde," which are put to use in this comedy about a failing sorority of nerdy misfits who learn how to be gorgeous and popular from a fallen Playboy bunny. Director Fred Wolf appears to be $20 million short of the required amount to get Reese Witherspoon out of bed these days, so instead, we have Anna Faris, fresh off her breakout role in Gregg Araki's "Smiley Face," as the perky, platinum Playboy bunny put out to pasture, or at least of the mansion, at the grand old age of 27. Emma Stone, Kat Dennings and "American Idol"'s Katherine MacPhee star as her young charges.
Opens wide.
"I.O.U.S.A."
After piecing together the crossword puzzle doc "Wordplay," Patrick Creadon takes on the far more complicated challenge of transforming the confusing into the compelling with this alarming dissection of the United States' astronomical budget deficit. Following former Comptroller General David M. Walker on his "Fiscal Wake-Up Tour" designed to promote economic accountability, Creadon guides us through 200 years of the nation's fiscal irresponsibility, pinpointing key events and behavior patterns that have led to a deficit that's estimated at $9.5 trillion and counting. Bar charts have never looked so terrifying.
Opens in limited release.
"I Served the King of England"
Perhaps best known for the Oscar-winning "Closely Watched Trains," this latest offering from Czech auteur Jirí Menzel marks his fifth adaptation of the works of his late friend and revered author, Bohumil Hrabal. Menzel embarks on a merry, bittersweet dance through 50 years of Czech history through the eyes of recently released political prisoner Jan Díte. Ivan Barnev and Oldrich Kaiser play the young and old Jan Díte, respectively, as the film ruefully recollects his early days of serving as a busboy hiding his money from the communists to his rise to head waiter, hiding his intentions from the Nazis while in pursuit of his elusive dream of becoming a millionaire hotelier amidst the unending political tug of war raging on around him.
Opens in limited release.
"The Longshots"
As he discussed with Aaron Hillis, Fred Durst continues to surprise as the highly unlikely helmer of this feel-good family film co-produced by its star, Ice Cube. The former Limp Bizkit frontman follows up last year's "The Education of Charlie Banks" with the underdog tale of Jasmine Plummer, the first female to play in the Pop Warner football tournament. "Akeelah and the Bee" star Keke Palmer plays the young girl with the rocket arm who finds a father figure in her uncle (Cube), a former football star who coaches her to gridiron glory and pulls himself out of the doldrums in the process.
Opens wide.
"Momma's Man"
Noah Baumbach might've made Jeff Daniels wander around in his dad's old clothes for "The Squid and the Whale," but director Azazel Jacobs achieves another level of emotional authenticity for his latest film, casting his actual parents and filming in the same house in which he grew up. Matt Boren stars as Mikey, a dissatisfied thirtysomething suffering an existential crisis who leaves his wife and newborn for what's intended to be a short visit with his parents. Weeks later, Mikey regresses into a cocoon of adolescence back in his old attic bedroom, unable to leave behind his past and face his future — then again, his parents' place in Tribeca is rent-controlled, so it's hard to blame him.
Opens in limited release.
"The Rocker"
The unfortunate object of many a cruel barb — What do you call those talentless hangers-on that follow musicians around? Drummers. — the music world is replete with the tale of many a rhythm section left wailing in the mosh pit while their former buddies rock the world stage. In that vein, this winsome comedy inspired by the godfather of those near rock stars, former Beatle drummer Pete Best (who makes a cameo), features Rainn Wilson of "The Office" as a failed drummer booted off the tour bus on the eve of his former band's ascent to mega-stardom, who gets a second chance after joining his nephew's high school emo outfit two decades later.
Opens wide.
"Trouble The Water"
Billed as a "real-life Cloverfield" by some at Sundance, where it won the Grand Jury Prize, this eye-opening Katrina documentary from longtime Michael Moore collaborators Carl Deal and Tia Lessin puts politics aside and focuses squarely on the human toll of the devastating hurricane. Blending newsreel footage with a camcorder video diary shot by residents Kimberly and Scott Roberts, the film illustrates a harrowing story of survival as the couple hunkers down with their neighbors in an attic crawl space, sharing their ever-dwindling stockpile of supplies and waiting for a rescue that never arrived.
Opens in New York and Los Angeles.