Everything You Always Wanted to Know About Sex* (in Woody Allen's Movies)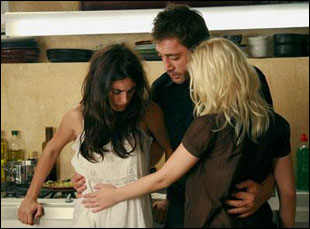 Posted by Matt Singer on
As far back as last February, the press began speculating about a supposed lesbian tryst between the stars of Woody Allen's new film "Vicky Christina Barcelona." Under a headline reading "Sapphic Steam," the New York Post's Page Six announced that they'd learned from an anonymous source that the scene between Scarlett Johansson and Penélope Cruz was "extremely erotic" and that when the film reached theaters audiences would "be blown away and even shocked." Various news agencies picked up the story. Some even distorted it further; one website assured its readers in no uncertain terms that "Scarlett Johansson and Penélope Cruz will have lesbian sex in Woody Allen's new film," as if the actresses were bypassing any notion of dramatic pretense and doing the scene purely for their own sexual gratification.
Even after "Vicky Christina" played the Cannes Film Festival last May, rumors of the combustible chemistry between the stars continued, but audiences seeing the film as it makes its way around the country in limited release will have to be pretty prudish to be "blown away" by what's on screen — the moment in question is a same sex make-out scene, infinitely less explicit than movies like "Bound" or "Mulholland Drive." I guess it's pretty hot by the standards of a Woody Allen movie, but that makes it pretty tame by most other measures. For 40 years, Allen has made movies about sex without ever actually featuring it.
Consider, for example, the alluringly titled "A Midsummer Night's Sex Comedy" (1982). It sure sounds dirty — hell, the word "sex" is right there in the title. If you saw the DVD in a video store and didn't know anything about the movie or who made it, you'd have to assume it was a Shakespearian-themed porno flick. Not quite; it's an easygoing comedy, loosely based on an Ingmar Bergman movie, about three couples spending a weekend together at a house in upstate New York circa the turn of the 20th century. Sex is certainly in the air, but it's not ever really on screen. At the, ahem, climax, one of the characters dies mid-coitus. He enters the country house from the woods, but the camera remains outside. From within, we hear some grunts and the sound of clothes tearing before Allen cuts away. When we finally make our way inside, the character is already dead. His partner describes the act — "We did it all! Violently! Like two savages! He was screaming with pleasure, and at the highest moment of ecstasy he just keeled over!" — but we never caught even a glimpse. If you're looking for steam, sapphic or otherwise, you can skip this one; unless your idea of eroticism is the sight of Woody Allen in a pair of old timey bloomers.
Allen has one other film with sex in the title: 1972's "Everything You Always Wanted To Know About Sex* But Were Afraid to Ask." And it, at least, comes a little closer to living up to its title. Based on the sex advice book by Dr. David Reuben, it's a collection of unconnected sketches about all manner of kink and taboo. It is undoubtedly Allen's most risqué movie, but it's also one of his silliest, and it only contains nudity if you count the sight of an enormous, disembodied, milk-squirting boob in a chapter about Woody as an author (whose latest book is entitled "Advanced Sexual Positions: How to Achieve Them Without Laughing") investigating the bizarre experiments of crazy Dr. Bernardo (John Carradine). The sequence also includes a man enthusiastically humping an enormous rye bread and Dr. Bernardo threatening Woody's female co-star (Heather MacRae) with gang rape by a troop of Cub Scouts. The movie doesn't have a great reputation, but it's most famous for the segment entitled "What is Sodomy?" in which Gene Wilder plays a doctor who falls for one of his patient's sheep; the funniest moment comes when Wilder's wife snuggles up to him in bed, sniffs, and goes "Why do you smell like lamb chops?"