The Decline of the Longitudinal Documentary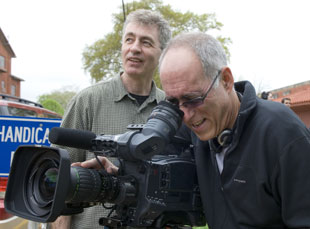 Posted by Steve James on
We're in a Golden Age of documentary filmmaking right now. Having been on the festival circuit recently with our film, "At the Death House Door," Peter Gilbert and I have been seeing firsthand the wealth and variety of accomplished documentary films being made here and abroad. And according to programmers, these festival films are being selected from hundreds and even thousands of submissions. Yet I don't see a commensurate growth in the number of "longitudinal documentaries" — ones like "Hoop Dreams" or "Stevie" or Barbara Kopple's "American Dream" (which Peter shot) that track people's lives and stories over several years. For me, longitudinal docs are the most deeply satisfying form. Spending years following a story is the ultimate act of filmmaking discovery, because you don't know where the journey is leading, no matter how perceptive you think you are. Indeed, you hope and pray you'll be surprised, because if you stick with interesting people long enough, they'll always surprise you — that's the beauty of human nature. I used to equate filming "Hoop Dreams" to living inside a Dickens novel, because the fortunes of the two young men and their families would change so frequently and dramatically. (I equate "Stevie" to living inside a Faulkner novel, but that's a different story.)
But as fulfilling as longitudinal filming is, it's also hard. It's hard to find funding, because many broadcasters like to know what they're paying for in advance. One once told me, "You're asking me to fund a fishing trip, and I don't know whether you'll bring back a big fish or a little fish." (They didn't give me any money.) Even when you get funded, it's hard for filmmakers to juggle their obsession with filming everything with their need to otherwise make a living: spending four or five years filming 200 days on a documentary budget doesn't work out to a very good "day rate."
And when you collect 500 hours or 1000 hours or 1500 hours of material, you've set for yourself a formidable editing challenge. The story is told in the editing of these films. Indeed, if "writing is rewriting," then "editing is reediting." One cannot do an adequate job — much less an inspired one — in six months. A year is more like it, and I've been involved in editing films that have taken several years. Many a promising film has gone on to die in post because the filmmakers didn't have the time, or resources, or patience to keep editing.
Then there are the human relationships of longitudinal filmmaking. If you spend years filming people, they will grow to be something more than just a "subject." I've never thought of myself as a journalist, so I don't wrestle over notions of "journalistic objectivity" and dispassionate observation, but that doesn't prevent me from struggling with my desire to document a subject's life in an honest way and still feel like a friend. When misfortune happens to people in your film, it's usually good for the film, but not necessarily so for your relationship with them, or for how you feel about yourself. In short, you can feel like a leech on another's misery. Someone once asked me, "What's more important? To make a great film, to make an honest film, or to have a great relationship with your subjects at the end of the film?" They're not mutually exclusive, but every experienced longitudinal filmmaker I know asks him or herself that question. Handled right and with a bit of luck, the misfortune you document should bring you closer to your subjects and make both of you feel that you have an important story to tell.
To pull off a successful longitudinal documentary really means having the stars align on so many fronts — no wonder it doesn't happen too often. But when it does, for the viewer and the filmmaker, there's no more compelling or moving a form. No other kind of fiction or documentary filmmaking can match its power to transport us deeply into the lives and experiences of others different from ourselves. And that is something that we need in this world now more than ever.
Steve James is the award-winning director, producer, and co-editor of "Hoop Dreams," which won every major critics award as well as a Peabody and Robert F. Kennedy Journalism Award in 1995. His latest film, "At the Death House Door," is co-produced and co directed with Peter Gilbert and will make its television premiere on IFC on May 29th.