The New York Underground Film Festival's Last Hurrah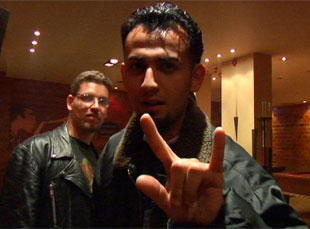 Posted by Michael Atkinson on
As film festivals proliferate like strip malls in nearly every city on the globe, say sayonara to the seminal anti-fest fest, the New York Underground Film Festival, giving up the ghost and closing shop after 15 years of courageously struggling to commercially showcase the inherently uncommercial. Over the years the fest has been the nation's premier landing zone for every type of film no one else would show: screaming punk sci-fi, optical abstractions, found-footage statements, transgressive fiction features, counter-culture homage, post-Waters camp, video installations, ageless-teen rebellion, radical politics and what have you. It's been a sack full of fighting rats every year as festival dockets go, but that's been part of the festival's charm and, frankly, its necessity, abetting and fueling as it has an entire secret film culture that has always had a hard time finding screens, and will now find times only tougher.
As usual, the fest this years favors shorts over features — "feature-length" being a construction of the marketplace, after all — although Thomas Bender's "Hoopeston" is a sharp-eyed and ironic portrait of a small, NIMBY Illinois town beset by an influx of Wiccans; the Vice boys' "Heavy Metal in Baghdad" punches out your lights limning the pressurized lives of the war-torn city's only headbanger band; James June Schneider's "The End of the Light Age" adeptly evokes a comatose hyperfuture by way of relentless tedium (even with Lou Castel in the house); and Josh Koury's "We Are Wizards" offers up a queasy but endearing look at extreme Harry Potter fandom, including the perfectly awful phenomenon of wizard rock.
The shorts, from time immemorial the best-suited form for "underground" cinema, or underground anything really, play with fire. Amid works from vets like Leslie Thornton, Jem Cohen, Michael Almereyda, Peggy Ahwesh and James Fotopoulos, there's Kevin Jerome Everson's "Playing Dead" — a found-news-footage minute-and-a-half as painful as a dull knife used quickly — and Ahwesh's sublime "Beirut Outtakes," pieced together from old, decaying reels of American films, Arabic pulp, trailers, underwear commercials, etc., found in an abandoned theater in the titular city. Hito Steyrel's "Lovely Andrea" follows the filmmaker's investigation through the bondage-porn industry of Tokyo to find a trussed-up photo she'd modeled for 20 years earlier; unfortunately, Steyrel's simplistic political points are made with a flat shovel. Takeshi Murata's op-art loop "Untitled (Pink Dot)" is a rapturously sludgy orgasm of oozing pixels (I only watched it once), while Jennet Thomas's "Black Tower" shorts smack too much to me of a tourist jaunt through Lynchistan.
There's no resisting, however, Abbey Williams's "CALIFORNIA/blue," which essentially crafts a Joni Mitchell music video from surreptitiously-shot scenarios played out in the fake rooms of an IKEA store, nor John Smith's "Dirty Pictures," which begins and ends in a Jerusalem hotel room with mysterious moving ceiling tiles, but embraces the entire dilemma of Palestine in the process. Almereyda's work-in-progress "Paradise" sticks to my skull wall, though, because it is unfinished — an off-hand diary film of inconclusive real moments and minor ecstasies, often shot in night vision, the pieces we get climax in Pleasantville watching a pale Jersey girl in the ghostly video shadows trying to catch fireflies. What more could you want?
[Additional photo: "CALIFORNIA/blue," Abbey Williams, 2007]