SXSW 2008: René Pinnell & Claire Huie on "The King of Texas"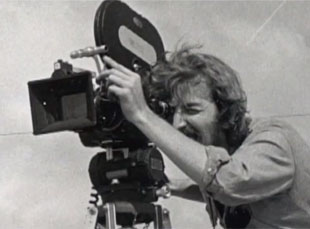 Posted by Stephen Saito on
It was an oddly complementary pairing at SXSW when there was a mid-festival premiere of "Lou Reed's Berlin" followed by "The King of Texas," a documentary about indie film pioneer Eagle Pennell. Like Reed, whose sole album fronting The Velvet Underground inspired a host of imitators, Pennell is cited as an influence for not only filmmakers like Richard Linklater, who picked up Pennell's loose-knit aesthetic for "Slacker," but also for the likes of Robert Redford, who was said to have been inspired by the film to commandeer the U.S. Film Festival in Utah in order to make it a forum for regional filmmaking — now known as Sundance. Pennell made two films that suggested far greater things — the laconic, lived-in slices of life "The Whole Shootin' Match" in 1979 and "Last Night at the Alamo" in 1983 — before his struggle with alcoholism and other personal demons left him homeless and ultimately, dead mere days before he was to have turned 50 in 2002.
Although Pennell's work is largely unknown outside of Texas, his friend and restoration expert Mark Rance is hoping to change that with a DVD of "The Whole Shootin' Match," complete with a new documentary on Pennell made by his nephew René Pinnell and Claire Huie. But make no mistake, the resulting film, "The King of Texas" is far more than your typical DVD special feature. Insightful and pulling no punches, the film chronicles Pennell's adventures as a filmmaker who was immensely talented and unprepared for success, with interviews with Linklater, screenwriters Bud Shrake and Kim Henkel, and several other of Pennell's friends and collaborators. Pinnell and Huie spoke about capturing Pennell's larger than life personality shortly after their film's SXSW premiere.
You say in the film you didn't really know about Eagle's films until he died. When did you first discover them?
René Pinnell: I'd known before [Eagle] had passed away that he was a filmmaker, but I had no idea what kind of movies he made or where. When he died, [Austin Chronicle editor and friend of Pennell] Louis Black organized a retrospective screening of his films at the downtown Alamo Drafthouse. I watched his movies and I was blown away because they were really good. It was totally bizarre to me — I think I was 18 then and had already been making movies since when I was really young. I started doing animation when I was eight or nine, claymation and hand-drawn animation, and as soon as mini DV cameras came out I started working with those. [Filmmaking] had already been a huge part of my life by the time I found out that someone in my family actually made a movie that I liked.
Was it a huge shock to find out that you were related to such an accomplished filmmaker?
RP: It was a neat connection, and I remember wondering why I never knew the guy. I knew the basic reason was because he was kind of a drunk and a bum for the later part of his life. But I didn't really understand why he was never a part of my life at all until I made the movie, because it was only then that I understood the full extent of how difficult my dad's relationship was with his brother. Before I was born, he and Eagle tried to write a film together. They were trying to write a western and my dad took it really seriously and worked hard and had a lot of hopes riding on it. Eagle would have some good ideas, but he could never sit down and finish it, and never gave the direction that my dad needed. So it fizzled, and I think after that it was just always painful for my dad to do anything with his brother, [for] that and a whole host of other reasons.
Because this is a personal story and you had so many family members involved in the making of the movie, were there things about Eagle that people shied away from talking about?
RP: Claire would probably be the best one to answer that because she was our barometer in terms of making sure that we were honest.
Claire Huie: There were scenes that were difficult, that initially, when Chuck [Pinnell, René's father and Eagle's brother] saw them in the edit, he thought we should take out. The scene where Eagle is at his [own] wedding reception and hitting on the [sister of his newly wedded bride], that was hugely painful for every Pinnell involved. At first, [Chuck] said "You have to take it out," and we decided to leave it in, because you really see just how delusional he is in that moment.
How receptive were people to talk about Eagle?
CH: I think people were very reticent to talk about the bad times, and I think there were a couple of people, like Lin Southerland [who starred in Pennell's "The Whole Shootin' Match"], who resisted for a long time just to do an interview.
RP: She never actually agreed to an interview. We showed up and were like "Can we at least film Chuck getting the [archival] stuff?" And that's why we did the whole interview in front of her little shed/barn.
CH: She started talking about everything, and I think it was definitely 15 minutes into the interview before she realized that she was being interviewed. [laughs]
What do you hope this will ultimately say about Eagle's legacy?
RP: I think the first thing that comes to mind is the myth that he created around himself — the larger-than-life tall tales of Eagle being ridiculous and crazy and drunk, and I think that totally overshadows the fact that he made two good films — "The Whole Shootin' Match" and "Last Night at the Alamo," and even his short, "Hell of a Note." It wasn't just caricature. There was a man behind that who had complexities and depth. He could be a terrible asshole, but he also had a different perspective.
He made some good films, they influenced some people and then the rest of his life is really just a cautionary tale. I think everybody that makes movies can see a little bit of themselves in Eagle, because it takes a lot of those traits. It takes the ability to pull a group of people together and put your film and often yourself ahead of everyone else, because it's such a hungry baby that you have to feed. I think that selfishness goes hand in hand with filmmaking, and knowing more about [him] has shown me pitfalls I think I'll be able to avoid more effectively now that I've seen his whole life play out and I know it's not the road I want to go down.
[Additional photo: Eagle Pennell's "The Whole Shootin' Match," Watchmaker Films, 2006]