Rhymes With What? Five Films in Which Women Actually Go Through With Abortions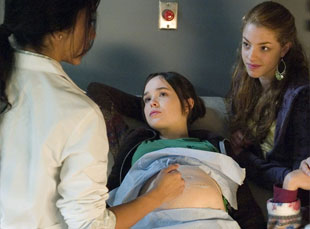 Posted by Alison Willmore on
As many an entertainment writer casting his or her weary eye over the past 12 months' releases in search of a trend piece pointed out, 2007 was a great year for the unintended pregnancy (that generally lead to unexpected happiness). The parade of scrappy swollen-bellied successes included "Knocked Up," "Waitress," "Bella" and "Juno" — the last of which cleared the $70 million mark at the box office this past weekend, and has been racking up award nominations left and right. "Juno" has also, thanks to its lucky (or not) confluence with the Jamie Lynn Spears pregnancy scandal, been the subject of columns and editorials using it as a launching point for talk of the effectiveness of abstinence in sex ed, of whether these films have been whitewashing pregnancy and motherhood, of the best time to talk to your children about contraception, of whether these are indications that we're in a new age of conservatism… While the furor continues, here's a look at a five selections from that less-discussed genre of films — ones in which women actually go through with, as "Knocked Up" put it, a "rhymes with 'shmashmortion'" — and how they're come off on screen.
Cabaret (1972)
Liza Minnelli's bohemian nightclub entertainer Sally Bowles romances the mostly gay Brian (Michael York) and the ambiguous baron Maximilian von Heune (Helmut Griem) in Weimar-era Berlin. When she discovers she's pregnant, she's unsure which of the two is the father. Though Brian is willing to marry her and take her back to England with him, she decides to go through with an abortion and stay in Berlin ("How soon would it be before we started hating each other?").
Portrayal: Tragic. While Sally's point is fair — outside of the bubble of Berlin, their relationship likely wouldn't last — her act comes across as the selfish one in the face of what amounts to Brian's sacrifice, and her choice to stay in Germany as WWII approaches essentially means she'll be punished for it.
Fast Times at Ridgemont High (1982)
Impatient with her boyfriend Mark's (Brian Backer) reluctance to make a move, freshman Stacy (Jennifer Jason Leigh) ends up spontaneously sleeping with his more aggressive friend Mike (Robert Romanus), and, yes, getting pregnant. Mike fails to either come up with cash to help her pay for the abortion (he buys REO Speedwagon tickets instead) or show up to drive her to the clinic, leaving her to call on her older brother Brad (Judge Reinhold), who turns out to be gently supportive.
Portrayal: Astonishingly matter-of-fact, particularly for a mainstream film. Stacy doesn't die, drop out of school or embark on a downward spiral — instead, she goes on with her life without dire consequences, and comes to respect Mark's decision to take it slow. Even the excised scene on the operating table (which usually makes it in to cable airings of the film) neither soft-peddles nor demonizes the procedure.
Wild at Heart (1990)
Knocked up by her unstable cousin Dell (Crispin Glover) at age 16, Lula (Laura Dern) is forcefully taken to have the world's scariest abortion by her mother Marietta (Diane Ladd), who wants her to be appreciative of their having gone to see "the best damn abortionist in the South," though Lula mostly remembers his hairy nostrils.
Portrayal: Lynchian. There's screaming, bloody instruments and a fetus in a trashcan, though it's all just a fittingly terrifying counterpart to the nightmare of actual parenthood portrayed in "Eraserhead."