Mathieu Amalric on "The Diving Bell and the Butterfly"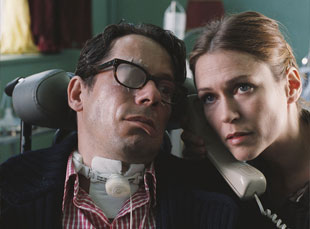 Posted by Michelle Orange on
Julian Schnabel casts from the gut, and his third film, "The Diving Bell and the Butterfly," was no exception. The artist/director refused to let his comme ci comme ça French inhibit him from selecting an all-Francophone cast and shooting the film in the native language of its subject, 43-year-old Jean-Dominique ("Jean-Do") Bauby. To play Bauby, the Parisian Elle editor left paralyzed by a massive stroke who subsequently dictated his memoir using the only part of his body he could still move, his left eyelid, Schnabel approached Mathieu Amalric, a celebrated actor in France but one American audiences may know best from his role in "Munich" as an amoral supplier of information to the highest bidder. Amalric (along with fellow cast members Emanuelle Seigner, Marie-Josée Croze and Max Von Sydow) was chosen by Schnabel not only for his talent, but because he felt right, like someone Schnabel wouldn't mind spending a few weeks with at coastal France's Berck Maritime Hospital, the location where Bauby spend much of his rehabilitation. It's a feeling, however, that didn't stop Schnabel from trying to kill his star, as Amalric suggested when he sat down with me to talk about the challenging role.
Working on a film like this must lead you to some of life's most painful and important questions — what is a life, what is it to be alive, what would I do or want in this situation — was anyone's will changed as a result of this film?
Oh definitely. Definitely. For me, the thing that I took away that I still do is just stopping every day and taking a few moments to do this [Amalric flattens his right palm and then contracts it into a fist]. I ask my brain to tell my fingers to move, and then my fingers actually move! It's a small thing, but it's amazing, really, when you think about it, that this works, it does exactly what I ask it to do. That reminds me of how lucky I am.
Ronald Harwood's script was translated into French, but the cast members were encouraged to improvise, did that help smooth any gaps?
Julian was very open to that, especially when we were recording the voice-over. But he would get to something in the script that didn't quite work and he'd say, "Well, how would you say that?" And we would be able to contribute that way.
So much of Bauby's internal life is conveyed through your voiceover, which you recorded live in another room while watching your point-of-view on a monitor as it was being shot next door. Did you have any sort of ritual or preparatory technique to get you into the mood to record it?
The place I was in was like a studio, close to the set but in another room — it was actually the ballroom of the hospital, because that was the biggest room. And there was a space for me there with a monitor, behind a curtain, where I would sit in my clothes and my make-up, of course without [the prosthetics]. But yes, I was in my bubble [Amalric leans down as if to cup his hands around a monitor], and trying to find that space and that voice. It wasn't very fair to the other actors, actually, who had to do all of their acting directly to the camera. And the way it was set up, the cameraman became kind of like an actor in the scene. He would wear headphones and he was the only one who could hear my voice as the scene was going on, so if I started talking about how bored I was and when was this stupid girl going to shut up, the cameraman would let the lens drift to the wall. The woman would notice this, of course, and say, "Mr. Bauby! Mr. Bauby, regardez-moi, s'il vous plait." And the camera would go back, and I would say to the cameraman, "Now look at the leg, tilt down to her leg!" And we would just have fun, improvising like that — but the poor actors didn't understand what was happening. And that sort of experience, working like that, it helped me understand how it might be possible to have some fun, in that state — the power of becoming this invisible man.
Julian Schnabel talked about one day of shooting that wasn't so much fun (involving an underwater scene in which Amalric had to wear a diving bell and a miscommunication between the actor and the cameraman put him in serious jeopardy).
Do you mean in the diving bell?
Right–
I almost died. Oh! But I had to do it. I believe in…being strong, in challenging myself in different ways — that is important to me. So I had to do that scene myself. But we shot it at the end, it was the last scene and the last take, so it felt like Julian could say, "Okay, now you can die, and we don't care! Bastard!" We had everything else in the film — the diving bell was the last sequence. And it was complicated, but we had no rehearsal. So I guess he told you that things went wrong, the hand signals didn't work and the cameraman wasn't supposed to lift me out of the water when he did [causing Amalric to nearly drown]. But he didn't know.
That may have been the most obviously challenging scene, but I imagine the film was physically as well as emotionally demanding — you had to achieve and maintain a complete stillness, with all of that energy contained within. Was it as exhausting as it looked?
Oh, my God. Well, I also do some directing, and I was about to direct my next film. I thought I could take this role — that's fine, really easy — I'll do it and be able to lie in a bed all day and think about my film. But that did not happen — it was exhausting. It was totally consuming. Just getting in that position, even holding the position of the hand, the tension of it.
Did you meet with other locked-in patients, or talk to members of Bauby's family, to help you with the physical aspects of the performance?
Yes. And at the hospital where we shot, some of Jean-Do's nurses and his physical therapist were still there, so they could say, yes or no, this is what this looks like. What was great though, in talking to his friends and family and listening to them — their stories all contradicted one another, and what I realized what that, "Oh, this is not a hero, this is just…a man." He liked to travel, he was materialistic, he liked cars, he was shallow, he had a temper, he visited brothels in Brazil — normal things. [laughs] But also, he loved life. Loved his children. That helped me a lot, it freed me, to realize that you don't become a saint when you have a stroke. Finishing the book, for instance, wasn't some great, noble thing for Jean-Do. In fact it was very practical: he wanted to leave something that would [generate income] for his kids, and show everyone else that he could do it. For me, what helped was understanding that he was determined to write the book so that his friends in Paris wouldn't think he was a vegetable! That's all.
Were you wary of being subjected to the kinds of accusations leveled at films that heroicize afflictions and afflicted characters? I have read the term "disability porn" as a description of that tendency.
Of course, yeah. Well [the threat of that kind of accusation] helps motivate you to not…masturbate yourself in portraying such a character, in order to avoid that.
How long was the shoot for the film?
Well, we had seven weeks, but we finished shooting ten days early, because I guess that's way Julian works–
Under-schedule?
Yeah. He works really quickly, with no rehearsal, and I think it's a very intelligent way of dealing with emotion, to make things very immediate. Instead of wasting time, and take after take, on stupid moments, trying to get something "exactly right." So, in fact, in the schedule they had three days to do the scene with the kids on the beach, and we finished it in one. Because, with kids, you don't need to make them do it over and over, you just capture the moment and move on. And Julian understood that.
So you spent seven weeks in this rather exhausting state of being "locked in" all day — how did you cope with that? How did you literally rise up and walk off of the set at the end of each day? How would you unwind?
I went to the casino [close to the hospital where they filmed in Pas de Calais]. I drank a lot, with the other actors, and then won lots of money.
And that helped?
Yeah! Usually, it did.
"The Diving Bell and the Butterfly" opens in limited release on November 30th.