The Great World of Craig Zobel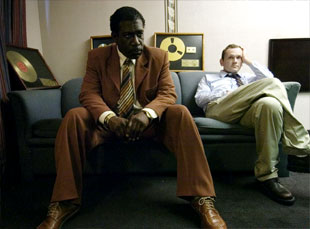 Posted by Matt Singer on
The personals are full of them; want ads promising easy fame and fortune for people with undiscovered talent. Music industry neophytes show up, audition, and receive every promise under the sun, if they put up a little of their own cash first "as a show of good faith."
The practice is called "song sharking," and though the scam's potency has faded in recent years, it still exists in smaller communities, on means to prey on people's dreams and finances. Writer/director Craig Zobel, a longtime producer and production manager for David Gordon Green, heard about song sharking from his father, a lifelong salesman, and decided to turn the subject into his debut feature, "The Great World of Sound," which has toured the festival circuit to widespread acclaim and opens in limited release from Magnolia Pictures this week.
Beyond its intriguing premise, "Great World" has a killer hook: though the story starring actors Pat Healy and Kene Holliday is fictional, Zobel placed song sharking ads in newspapers to bring in real people to play their unsuspecting victims. Healy and Holliday would conduct the interviews while Zobel and his crew captured the whole thing on hidden cameras. Zobel discussed the fascinating results with me at Magnolia's New York offices.
You've exposed this scam — any shady characters coming after you as a result?
[laughs] For half a second I was worried about that, but then it occurred to me that people more often than not are like "Well that's not me. We're different. We really are going to help your career!"
So once you decided to make a movie about song sharking, how did you come to use real people singing their own songs in the movie?
Practically, the reason I wanted to do it was I wanted to get an unaffected performance, and when I put actors into this situation, I found that there was a different vibe. It didn't feel like these people were really sincere. Honestly, it was mostly that.
It makes for a less splashy, dynamic article but, in all earnestness, there's a range [of people who knew and who didn't know they were being filmed]. There are certain musicians who knew it was a movie. The gospel singers in that scene with Kene knew they were in a movie; they didn't read the script, they just came in and knew they were supposed to be in a movie and just react to whatever happened.
So it was a combination of things. I wasn't doing it so I would have this great gimmick. That wasn't my intent — it wasn't "Borat." It was, "How do I make this movie feel this way?" And I decided "Well, I'm not making a documentary, so I can break any rule and just do all sorts of different weird things!" [laughs]
How do you direct your actors in those hidden camera scenes? Are they wearing ear pieces?
We wrote a cell phone specifically into the script so that I could call them. They'd be in the middle of an audition and I'd ring them. They'd go, "I'm sorry, I have to take this. It's my boss." Which wouldn't be a lie! And then I'd be like, "Try to start talking about this…"
More often, we wouldn't really know what was going to happen, but we'd look at who was coming in and go "Okay, the next person is a rapper named Ganja. So Pat, no matter how good or bad he is, you need to be really uncomfortable with the fact that his name is Ganja and that that might not be marketable." And they would just run with it. We'd sit before and go "What do we want? What haven't we done that's interesting?"
Hollywood's standard way to make movies about con men is to glamorize them; just this summer we had "Ocean's Thirteen," for example. Your movie is about con men, but it's the total opposite — the con men's lives are almost worse than the people they are conning.
Yeah, I was very conscious of that. I mean, wouldn't they be miserable? I can't imagine that it's a glamorous lifestyle, being a con man. Nobody wants to be a Machiavellian bad guy. So you have to think that you're either doing something not that bad or you have to be rationalizing it constantly.
It's not the same thing, but I worked as a phone sales operator for a while. Pat worked as a door-to-door vacuum cleaner salesman. When you're doing those jobs, you're doing them because you need fucking rent money, like, next week. You're not in a glamorous place in your life when you have to go non-legit. Rich people don't sit around going "How do I do something ethically weird?"
Was it sadder when someone came in to audition and they were really good or really bad?
It's an interesting question. I think… when they were bad. I felt like the really good people knew that they were good and probably had a ton of people around them supporting them. Maybe it's rationalization on my part, but when people were really good I'd think, "Well, they're gonna be okay."
You hope that talented people will eventually rise to the top.
Yeah. Which did you think was sadder?
Well when I was watching the good people, I'd think "This person is really talented!" and yet I look around and see lots of people who are successful and are untalented.
I'd been thinking about it like that, but I guess I'd intellectualized it by the time we were shooting. I also tried not to put the untalented people in the movie. There's one person who sings really badly in the beginning of the movie who's a ringer, so I wouldn't be making fun of anyone.
What was the percentage of people you saw that were actually talented?
Certainly over 50 percent. I'd say that of the people who came in, only 30 percent of them made me feel uncomfortable because they weren't good enough. Everybody else was good; it was just that they hadn't been able to crack the code of how to become a professional musician. And that's what the scam attracts — not stupid people, and not naïve people even, but people who want to figure something out and just don't know. And they, for one reason or another — self-esteem or financial circumstances or family problems — haven't been able to just jump in and be like "My whole life is going to be about me trying to be a musician." So they're trying to figure out a shortcut that works.
Let's give someone a plug, then. Who was the most talented person who came in to audition?
Gosh. I fell in love with this woman who's a teacher and who has a very small part where she hands out the lyrics to her song. She came in and played a banjo song that I thought was the most amazing thing. I think Alison Krauss fans the world over would love her. Her name is Mindy Spainhour. And I still keep in touch with her.
"Great World of Sound" opens in New York on September 14th (official site).