This Is What It Sounds Like When Comedians Cry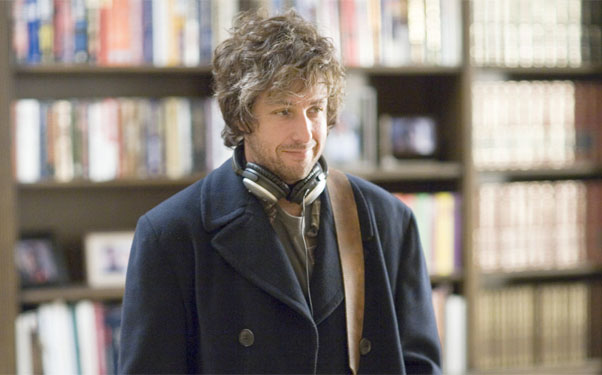 Posted by Michelle Orange on
As the adage goes, "dying is hard, comedy is harder." So why is it that so many comic actors are eager to cast aside the funny for the oh-so-serious? Sure, you're much more likely to bag an Oscar nomination for a role that calls for droopy-eyed soulfulness than for one that involves carrying out a ground campaign against gophers, but in the end, it's your monologue about caddying for the Dalai Lama that everyone knows by heart.
The latest instance of a comedian crossing the humor line is Mike Binder's drama "Reign Over Me," which features Adam Sandler as a man emotionally shattered after losing his family on 9/11. As Sandler rides around the city on his scooter, reestablishing his sanity and his friendship with a former college roommate (played by Don Cheadle), you have to wonder if this performance is going to be more "Punch Drunk Love" (yes!) or "Spanglish" (ack!). In honor of Sandler's valiant (if perhaps ill-advised) venture back into the dramatic, here's our look at the mixed results that have come about when our favorite comedians have gone serious.
Jim Carrey
The very rubber-faced qualities that make Jim Carrey such a gifted physical comedian sometimes defeat him when he plays it straight. At rest, that spastic visage is surprisingly boyish, but also a little…smug? Or maybe it's just that Carrey, when he's not in full-bore supercomedian mode, seems too smart for the dreck to which he can commit himself so earnestly. To watch him wade wide-eyed through drippy period piece "The Majestic" or to somberly bracket the soapy "Simon Birch" as the narrator and adult incarnation of the main character is to wait on the edge of your seat for him to crack and acknowledge to the audience and to himself that the dreadful dialogue he's uttering could be comedic gold, given the proper satirical touch. And wait you will in vain — Carrey's latest attempt at drama, the nonsensical numerical howler "The Number 23," finds him, rumple-faced, gamely playing two characters — good-natured dog-catched (hee!) Walter Sparrow and fictional detective Fingerling (hee again!) — with nary a wink or a smile.
Not that Carrey's serious roles have been all bad; while I always thought his most acclaimed role as Andy Kaufman in 1999 biopic "Man on the Moon" was overrated, there's no denying Carrey inhabits the comedian's every twitch. And as the unexpected straight man in "Eternal Sunshine of the Spotless Mind," Carrey is, bereft of his comedic trappings, the saddest clown on the LIRR, worn down by the day to day slog of life, but still open to finding a little unanticipated magic in it. —Alison Willmore
Takeshi Kitano
In the U.S., Takeshi Kitano is a cult icon, a shaper of laconic gangster films that emphasize the empty moments in between blood spurts. His role in Japan is far more complex, having shot to stardom as a member of "The Two Beats," a controversially foul-mouthed comedy duo that came to prominence in the 70s. It's shocking to see clips of them now, since "Beat" Takeshi plays the fast-talking vulgarian to "Beat" Kiyoshi's befuddled straight man. His rapid fire delivery is a far cry from the sullen thugs of "Sonatine" (1993) and "Fireworks" (1997). Kitano went on to dominate television in Japan through the nineties (he was voted Japan's favorite TV celebrity from 90-95), doing a little bit of everything including a game show entitled Takeshi's Castle (86-89), where contestants endured humiliating stunts in order to meet his "Count." The show was later dubbed with a mocking English voiceover and ran in syndication in the states as the Most Extreme Elimination Challenge. That xenophobic nugget (look at those crazy Japanese!) exposed me to Kitano's vast career before his discovery in the states, which is in dire need of a recovery, or at least a few subtitled DVDs of "The Two Beats" in their prime. —R. Emmet Sweeney
Steve Martin
Steve Martin was accused of attempting a Bill Murray-like slight-of-bland when "Shopgirl" came out in 2005, two years after Murray sighed his way to a Golden Globe for "Lost in Translation." Playing a post-middle aged, successful, rich man with a thing for Claire Danes' depressive ingénue, Martin tried on melancholy minimalism and it fit him like a giant inner tube. The most unseemly part of the failure was that it was truly an inside job; Martin was responsible for the source material (his novella of the same name) and even provided the turgid narration. Audiences recoiled at the sight of The Grey One's gnarly, old man hands on Danes' bare bum and the film was called, among other things "art decoration for an aging celebrity's unpleasant fantasy." Martin has rarely found success with the serious thing; though he was praised for his role in "Grand Canyon," since then he has tried again with "A Simple Twist of Fate," "The Spanish Prisoner" and then the curiously bad "Shopgirl." I hold out hope that he has it in him somewhere, but without the body armor of the straight man suit or comic bag of tricks, Martin seems to wax over with self-consciousness. —Michelle Orange
Bill Murray
For a while after graduating from the ranks of "Saturday Night Live," nobody could shape a character as funny as he was human like Bill Murray. Even in small roles — like immortal groundskeeper Carl Spackler in "Caddyshack," who was given special dispensation from the Dalai Lama (something along the lines of "Gunga galunga") — Murray made huge impressions. But at some point in the mid-90s, Murray transmogrified from comedian who could act into an actor who was also funny. Whether it was because the choice comic roles weren't there anymore, or he started thinking about his legacy, Murray traded the Harold Ramises and Ivan Reitmans of the world for the Sophia Coppolas and Wes Andersons. His first partnership with the latter, 1998's "Rushmore," yielded one of his finest performances in a career full of them as Herman Blume, a man so introverted he was practically antithetical to the goofy, genially grating persona Murray had worked for nearly 20 years.
He's taken a few goofy roles since, but he's mostly stayed in his "serious" mode. But it's one thing to be serious; it's another to be boring, and Bill's come dangerously close in recent films. The Blume role, such a departure, now seems like his standard operating procedure, and what previously felt so fresh now smells a bit stale (see "The Life Aquatic" and "Broken Flowers"). Instead of taking serious roles, Murray seems to take himself seriously — something that can spell doom for an actor/comedian. Let's hope Bill figures out he doesn't need to be either an actor or a comedian. At his best, he does both equally well. —Matt Singer