Tom Tykwer Stops to Smell the "Perfume"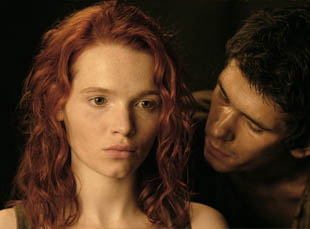 Posted by Aaron Hillis on
Since exploding onto the international film scene with 1998's beloved techno-beat thriller "Run, Lola, Run," German writer-composer-director Tom Tykwer has demonstrated a natural flair for the hyperkinetic in such titles as "The Princess and the Warrior" and "Heaven." Many years in the making, Tykwer's new hotness is "Perfume: The Story of a Murderer," an adaptation of the monstrously popular novel by Patrick Süskind. Set in 18th-century Paris (but surprisingly without the anachronistic flash in which Coppola's "Marie Antoinette" bathed), the film stars Ben Whishaw as a peculiar orphan named Jean-Baptiste Grenouille, the anti-hero who discovers from an early age that he possesses the most powerful nose in, perhaps, all the world. Bought out of slavery by Giuseppe Baldini (Dustin Hoffman), a fading perfumer who recognizes his gift for scent-making, Grenouille's raw talent is honed to that of a genius craftsman, yet it still can't satisfy the gaping hole blackening his very soul. Without proper parenting, Grenouille grows up to develop a skewed sense of ethics and morality, and soon begins to leave behind him a trail of destruction as he attempts to capture the greatest smelling perfume… derived from the flesh of freshly killed virgins. Nothing says Christmas like the murder of innocent girls, but even if you think that premise stinks, the film continues to prove Tykwer is one of the most intriguing visualists working in film today.
You've said before that you feel a proximity to Grenouille, but I'm guessing you're not the first to admit that. How does one relate to a serial killer?
I think it must be one of the big secrets of the novel's success. You feel close to this guy and connected with his problems, desires, and needs because he's very lonely and not skilled in social terms. He tries to overcome that by putting something on him, which is what we all do; we all choose our shoes, trousers, haircut, anything in order to say something about us. I could completely connect with that, that the more inexperienced you feel in how to behave to other people, the more difficult it gets for you. The only problem is that if you create something that people are really attracted to, they don't meet you. They just meet the curtain, the disguise, and that's the ironic tragedy of this entire story. I love that contradiction, that it's both scary and heartwarming. Very understandable and totally amoral. [laughs]
The film is such a balancing act between the vibrant modernity of your filmmaking and the classicism of the era it takes place. How did you approach this?
We had a very specific idea about how to show and shoot this movie in a way that doesn't have an attitude of presenting. It's through our rich art direction, using decorations as backdrops and having a throwaway attitude to make it feel like it has a deep connection to its reality; a film that really tries to recreate a world the way it was, and not the way we imagine or idealize it when we think of paintings. We were influenced most by our research, reading everything by people from the 18th century that actually wrote down street life. We didn't want to end up with one of those films where you are forced to admire a set decorator's achievements, totally overproduced. You need to be a master of proportion, and I wanted it to be completely driven by the narration and protagonist.
To me, so much of this adaptation is hinged on conveying the sense of smell in a medium with only sight and sound. How did you approach this task?
My first thoughts were simply, you know, the book doesn't smell. The book was very successful in describing the olfactory world through the means and potential of literature, so it's now the challenge for cinematic language to do so with its potential. I thought the solution was lying in many multi-faceted phenomena because you had to approach this problem through the character, experiencing everything the way he experiences it. He's a compulsive collector, okay, so let's try to imitate and find a way of representing this physical activity, his greedy picking of singular smells, and see how he adds them up. All these notes become smelling chords, then those chords become a composition, and suddenly you end up with your wide shot after you've started with a detail. We wanted to show progressions of intensities of smells by changing the degrees of colors and saturations. And I think my major way in was by writing the music at a very early stage, which helped enormously to understand what the atmosphere would be like. We connect the music to this guy's emotional reference system, basically triggered by the way he smells the world. If books can do it, films can do it. You still have to translate colors, movements, and images. It's more concrete in a way, but at the same time, it offers so many more possibilities to become abstract on another level. Kubrick said that if it can be thought of, it can be filmed. I thought it was a wonderful challenge for me to go somewhere not many have been yet.
And you didn't even have to hand out Smell-O-Vision or Odorama cards to the audience. This may sound strange, but smell is an undervalued sense because it's so intangible.
Smells are very profound stimulation for connecting us with our past. You enter a room, and there are smells that come from the carpet, the furniture, the wallpaper, and maybe somebody cooking something. All these elements mixed together, and suddenly you're brought back to standing next to your grandmother cooking, you're six years old, and you have a three-dimensional memory of that.
What could you sniff right now and instantly be transported to the past?
Not particular smells, but the whole combination of wet asphalt from rain, industrial smells from chemical factories, lots of cars, lots of simple foods, more meat than vegetables… you get a combination of that together and I'm back in childhood, on my way to school, and wandering around the city of Wuppertal, where I come from. My favorite smells are these kinds of compositions of normal daily life that still capture this very secret world that's deeply rooted in our emotional memory.
When I visited Berlin recently, I noticed the city has a very distinct composition of scents. Having lived there for 20 years, can you identify what that is?
It's deep, I don't know myself. I love the smell of Berlin, it's one of the major reasons why I moved there. I think it's difficult about cities in general. You could also blindfold me, send me to New York, and I would know immediately I was in New York. It's a combination of the food, the way cars are built here, and I think the subway has a very particular smell.
You mean body odor and stale urine?
I don't really judge smells myself. It's the same in Berlin, which people always forget is the greenest capital in all of Europe. There's no city that has more vegetation, so you obviously get a lot of photosynthesis, beautiful forests that the winds come through, and there's a lot of water that people never think about; the Spree river is like the nerve system that the city is laid upon. It moves in little canals, and there are a lot of smells coming from that. And then again, it's a city with a lot of tiny industrial things, with a subway and a very eccentric kitchen. I can't identify it, but if you blindfolded me in Berlin, it would take me less than a second to know where I was.
If you were forced to give up one of your senses, which would it be?
That's a fascist question. I have absolutely no idea, I need them all. That's why I'm a filmmaker, because I can use them all in film… No, you're not getting any of them, you'll have to find someone else to take them from.
"Perfume" opens in limited release December 27th (official site).