"The Marine" vs. "Flags of Our Fathers"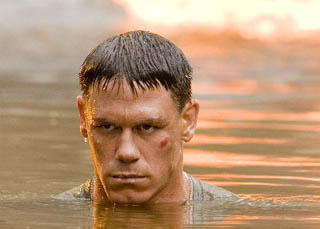 Posted by Matt Singer on
That there could be two movies in theaters simultaneously of such similar bases and such divergent content is a testament to cinema's enduring versatility, and its capacity for both brilliance and stupidity. "Flags of our Fathers" and "The Marine" are so perfect in their symmetry, they seem designed to inform each other.
Both present dueling views of life as a member of the United States Marine Corps. Clint Eastwood's "Flags of our Fathers," about the impact of Joe Rosenthal's photograph "Raising the Flag on Iwo Jima" on the war effort, contrasts the individual heroism of the men in the corps with the propaganda machine of the armed forces brass. It shows us the real men behind the carefully controlled images presented to the men and women on the home front in 1944. "The Marine," on the other hand, is all image, of the sort of red-blooded, blue-eyed American machismo that hasn't existed in action films since Reagan left office. Ironically, the film set in the past feels far more contemporary than the one set in the modern day.
It's hard to even believe the real men portrayed by Ryan Phillippe, Adam Beach, and Jesse Bradford belong to the same species as John Cena, let alone the same organization. Cena, a popular professional wrestler is all beefy hands and tree-trunk neck; as WWE-icons-turned-movie-stars go, he fares a little better than Hulk Hogan but pales next to the versatility, wit and natural charisma of Dwayne "The Rock" Johnson. After receiving a discharge from the Marines for disobeying a direct order in order to single-handedly rescue P.O.W.s from an al-Qaeda stronghold in Iraq, Cena's John Triton struggles to adapt to a life that doesn't involve assault weaponry. Though he lives for nothing but the Marine life, he's married to a Barbie doll made flesh (Kelly Carlson). "You married a Marine, Kate," he tells her by way of apologizing for his behavior. Fortunately, Triton's job search is interrupted by a gang of jewel robbers (led by Robert Patrick) who kidnap his wife at a gas station, and — at last! — Cena is thrust into action.
John Triton returns home from war and wants nothing more than to get back on the front lines. The soldiers of "Flags of our Fathers" get a free ticket back to the States for their appearance in Rosenthal's photo, but find themselves trapped on the blackened beaches of Iwo Jima, if only in their minds. As they travel through the U.S. to encourage war bonds sales, Eastwood returns repeatedly to the hell in the Pacific. Surrounded by imagined images of triumph, they flashback to real moments of terror.
The movies don't just come from different genres, they come from different worlds. In one explosion shells spread shrapnel and death. In another, they create super-cool explosions that present little danger to our nigh-impervious hero. Every time Triton took a gorgeous, slo-mo swan dive out of the teach of yet another fireball, I kept thinking of Phillippe's Doc Bradley, a Navy Corpsman who survives a Japanese shell with shrapnel in his legs. Unable to walk, ordered to stay down until a stretcher can arrive, he crawls over to another injured serviceman, medicating him even while he himself continues to bleed.
As Eastwood's narrator observes, we need heroes. But what kind of heroes do we need; ones imagined by screenwriters and PR men or ones lived by ordinary, selfless men and women? The WWE has one idea, Eastwood has another. Curiously, Eastwood's studio, DreamWorks (now part of Paramount) sides with the wrestlers; their marketing campaign for "Flags," replete with war drums and action shots while title cards hype the Battle of Iwo Jima's Medal of Honor winners, essentially sells the movie as the sort of patriotic spectacle Eastwood spends two hours critiquing and "The Marine" spends 90 minutes being.
"Flags" is unquestionably the better film but "The Marine" may be, perversely, the more watchable. It's an unabashed throwback to the elegantly dumb action movies of my youth; the knowing homages begin with a prologue straight out of "Rambo" and a storyline not far removed from Schwarzenegger's symphony of cartoon violence, "Commando" (both share a villain named Bennett, too). It could have been a great guilty pleasure, if only Cena looked like he was having a bit more fun — granted, he's trying to rescue his wife, but that never stopped Schwarzenegger from cracking lines like "Don't wake my friend, he's dead tired," after snapping a dude's neck. Even without the requisite jokes, the movie is utterly ridiculous (not to mention highly flammable). Wrestling is known as sports entertainment — not genuine sport, but rather a simulation. "The Marine" may be the first "movies entertainment" — false to its core, but damn fun to watch.
Eastwood doesn't hit a false note, and he's made a real movie. "The Marine" is required viewing too, for at least one reason: it makes Eastwood's point for him.