Characters
Loudon Wainwright III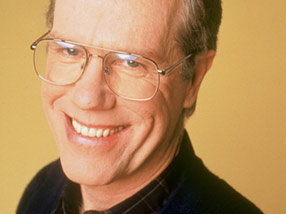 Singer/songwriter/actor Loudon Wainwright III was born in Chapel Hill, NC and was raised in the affluent golf course-clustered county of Westchester, NY. He studied acting and directing at Carnegie Mellon University for a year and a half. In 1968 he began to write his own songs and was soon "discovered" at New York City's "Village Gaslight."

His first album, "Loudon Wainwright III," was released by Atlantic Records in 1970. In 1972, he wrote and recorded the now infamous novelty classic "Dead Skunk In The Middle of the Road." Two of Wainwright's later albums, "I'm Alright" and "More Love Songs," were nominated for Grammy Awards, and his 1992 recording "History" was named one of the year's best albums by Rolling Stone. For 10 years Wainwright has written topical songs for NPR's "Morning Edition," and recently released a 30 year retrospective, "Loudon Wainwright III - The BBC Sessions," to critical acclaim. Additionally, his latest album, "Last Man on Earth," released in September 2001.

Wainwright's film credits include Neil Simon's "The Sluggers Wife," "Jacknife" opposite Robert De Niro and Ed Harris and, most recently, "28 Days" with Sandra Bullock. His television credits include a guest-starring role on three episodes of "M*A*S*H" and Central Television's "Soldier, Soldier" (UK). Wainwright appeared on Broadway in the Tony-nominated musical "Pump Boys and Dinettes." He was also a founding member of "Spinal Tap," served as the original musician/sidekick on "The David Letterman Show," and hosted the BBC TV series "Loudon & Co."