Characters
Will Arnett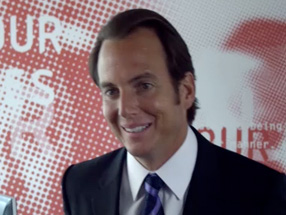 Will Arnett has been an extremely busy man of late. This fall on Fox's much anticipated new comedy series "Running Wilde" opposite of Kerri Russell. Arnett will play an extremely wealthy Beverly Hills man who falls for an environmental activist. He will star and write for the series alongside writer/director Mitch Hurwitz. He will also be seen in the Warner Brothers and Legendary western action film Jonah Hex based off the DC comic of the same name. In the film, which is set to release in June, Arnett will star opposite Megan Fox, Josh Brolin and John Malkovich.

Arnett was most recently seen starring in the Walt Disney Pictures' romantic comedy When in Rome opposite Kristen Bell and in G-Force, a combination live action/CG film from Disney and Jerry Bruckheimer Films, opposite Penelope Cruz, Nicholas Cage, Steve Buscemi, and Zach Galifianakis. In addition, last year he voiced a character in the hugely successful Dreamworks 3-D animated adventure film, Monsters vs. Aliens, alongside Reese Witherspoon, Paul Rudd and Seth Rogen, which opened number one at the box office. He also starred in the basketball comedy Semi Pro opposite Will Ferrell and Woody Harrelson, and lent his voice to the hugely successful animated comedy Horton Hears a Who. In 2007, he was seen opposite Will Ferrell and his wife Amy Poehler in the figure skating comedy Blades of Glory, and also co-starred opposite Will Forte in The Brothers Solomon.

Arnett earned his first Emmy nomination in 2006 for his work on the critically acclaimed Fox sitcom "Arrested Development," where he portrayed "Gob Bluth," for three seasons. From time to time, Arnett guest stars on NBC's "30 Rock" playing 'Devon Banks.' Last year he earned his second Emmy nomination for "Outstanding Guest Actor in a Comedy Series" for this role. Arnett also lent his voice to Fox's animated sitcom from creator Mitch Hurwitz, "Sit Down, Shut Up."

Before "Arrested Development," Arnett was a regular on the NBC comedy series "The Mike O'Malley Show." His additional television credits include guest-starring roles on "Parks and Recreation," "Sex and the City," "The Sopranos," "Boston Public," "Third Watch" and "Law & Order: Special Victims Unit." Arnett also appeared on NBC's "Will & Grace" playing Jack's dance nemesis while auditioning to become a backup dancer for Janet Jackson.

Arnett's other feature credits include Ice Age 2: The Meltdown, R.V. opposite Robin Williams, Monster-In-Law, The Waiting Game, The Broken Giant, Southie and Ed's Next Move. Additionally, he can be heard in a variety of commercials most notably as the voice of GMC Trucks.

Arnett currently splits his time between New York and Los Angeles where he lives with his wife, actress Amy Poehler and son Archie.