Characters
Shaun Pye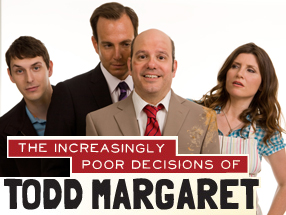 Following a critically acclaimed cameo as "Funny Nazi #2" in a pilot for THE 11 O'CLOCK SHOW Shaun Pye won a writing job and has since gained regular writing roles on shows such as THEY THINK IT'S ALL OVER, FRIDAY NIGHT WITH JONATHAN ROSS, NEVER MIND THE BUZZCOCKS.

Shaun wrote and performed in a tending-to-infinite number of comedy shows at university including the 1992 OXFORD REVUE, and made his straight acting debut as a slightly camp policeman in FIDDLER ON THE ROOF at the Oxford Playhouse in 1992.

A stand-up comedian, Shaun reached the final of the 1996 Daily Telegraph Open Mic Award in Edinburgh - which he lost. Somehow he pieced his shattered dream back together and now performs regularly on the London circuit. Shaun also appeared 'live' as part of CUSTARD during Edinburgh Festival 2000!

He is also a freelance journalist published in THE INDEPENDENT, THE TIMES and THE BIG ISSUE. For two years he worked for dry legal magazine THE LAWYER, bringing joy to literally dozens through his "irreverent and wry" Tulkinghorn Diary page.

Shaun's second cousin on his mother's side is Steve Harley, lead singer with Cockney Rebel.