Characters
David Cross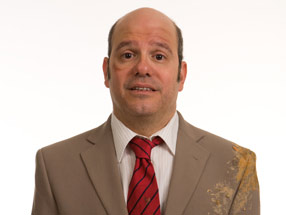 With a wide range of talents, Emmy Award winner and Grammy Award nominee David Cross has emerged as an inventive and extremely funny performer on stage and screens both big and small.

Cross recently wrapped production in the UK on his original comedy series entitled The Increasingly Poor Decisions of Todd Margaret opposite former Arrested Development co-star, Will Arnett, and director Spike Jonze. Cross created, co-wrote and produced the project and stars in the title role as a witless temp who inadvertently finds himself heading up a UK energy drink company. The series will have a six episode run on the UK's Channel 4 and will premiere on IFC on October 1, 2010.

This fall Cross will also be seen in a recurring role on the new FOX comedy series, Running Wilde, alongside Will Arnett and Keri Russell. Cross plays 'Andy', an "eco-terrorist" who has been living in the Amazon rainforest with his girlfriend, 'Emmy' (Russell), and will serve as a romantic foil to Emmy's first love: Steve (Arnett).

Cross has been named by Comedy Central as one of the 100 greatest stand-ups of all time and, in 2009, he embarked on his first stand-up comedy tour in six years in support of his first book, entitled "I Drink for a Reason," which was released by Grand Central Publishing. The book spent several weeks on The New York Times Bestseller List while the tour played to packed venues in almost 30 cities across the United States.

The hugely successful comedy show was filmed at Boston's Wilbur Theater and premiered on EPIX on April 10, 2010. This marked the comedian's first broadcast stand-up special in ten years. His previous special, David Cross: The Pride is Back, aired on HBO in 1999. The new special entitled "Bigger and Blackerer" was released on CD and DVD by Sub Pop on May 25, 2010.

David has previously released two comedy CD's on the Sub Pop label: "Shut Up You Fucking Baby!," which was nominated for the Grammy Award for Best Comedy Album in 2004, and "It's Not Funny." In 2003 he released the DVD, "Let America Laugh," a documentary film of the stand-up comedian's tour of small alternative rock clubs.

On the big screen, Cross most recently starred as 'Cain', opposite Paul Rudd's 'Abel', in the Harold Ramis comedy, Year One, which was released by Sony Pictures. His additional film credits include Christopher Guest's Waiting for Guffman, the sci-fi comedies Men in Black and Men in Black II opposite Will Smith and Tommy Lee Jones, the indie cult comedy Ghost World, Michel Gondry's Eternal Sunshine of the Spotless Mind, Todd Phillips' School for Scoundrels, the independent feature I'm Not There, the children's film Kung Fu Panda and Curious George, for which he provided his vocal talents.

On television, Cross is probably best known for his role as 'Dr. Tobias Fünke' on the critically acclaimed Emmy-winning comedy series, Arrested Development. As part of the ensemble cast, Cross was twice nominated for a Screen Actors Guild Award for Outstanding Performance by an Ensemble in a Comedy Series.

His introduction to the TV scene came in the form of The Ben Stiller Show, where Cross honed his comedy writing chops and shared a 1993 Emmy Award for Outstanding Achievement in Writing in a Variety or Music Program.

Cross would go on to earn three more Emmy nominations as one of the creators and writers, along with Bob Odenkirk, of the groundbreaking HBO comedy series, Mr. Show with Bob & David. The show ran on the cable network for four years and gained a huge cult following. More recently he wrote, produced and starred in the Comedy Central animated series Freak Show, which he co-created with H. Jon Benjamin.

David Cross currently resides in New York City.