Characters
Richard Ayoade (Moss)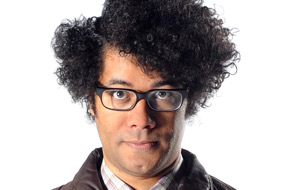 Richard Ayoade is a comedian, actor, writer and director.
Richard played the part of Tommy Nookah in The Boosh radio series and took part in the television pilot before moving onto other projects. He co-wrote and starred in Garth Marenghi's Darkplace for Channel 4 in 2004 and his character was resurrected in 2006 to host a comedy chat show; Man to Man with Dean Learner.
Now in his fourth series as Moss for The IT Crowd, Richard won the award for Outstanding Actor in a Television Comedy Series at Monte-Carlo Television Festival in 2008.
Outside of his television work, Richard has directed videos for The Arctic Monkeys, Super Furry Animals, The Last Shadow Puppets, Vampire Weekend, Kasabian and the Yeah Yeah Yeahs. In 2007 he directed a live Arctic Monkeys DVD. It was previewed at VUE cinemas across the UK during October 2008 and was released on DVD the following month, winning the "Best DVD" title at the NME Awards that year.