Watch Portlandia's "Brunch Village" now in the Stream Room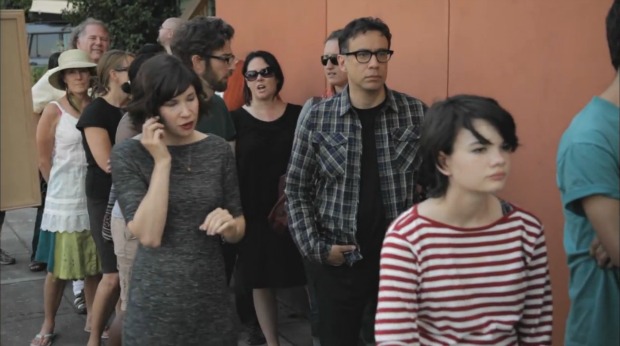 Posted by Melissa Locker on
On the season finale of Portlandia, we saw the show's co-creators Fred Armisen (Saturday Night Live) and Carrie Brownstein (Wild Flag, Sleater-Kinney) star as some of the series most beloved characters including their alter-egos Fred and Carrie waiting for the Mayor (Kyle Maclachlan) and extremely eco-conscious couple Peter and Nance and a bunch of our other favorite Portlandia residents waiting in line for the city's most popular brunch spot and its world famous marionberry pancakes. The episode also featured a memorable appearance by Tim Robbins, a guest turn by Ed Begley, Jr. as a beleaguered diner owner, and a brilliant performance by Toni and Candace who did not appreciate the brunch line blocking their entrance. That's what we saw when we watched the episode. And that's what you can see now that we've put Brunch Village into our online streaming forum, the aptly named Stream Room.
So watch this clip starring Tim Robbins, then head to the Stream Room to watch the full episode of Portlandia's "Brunch Village":
video player loading
.
.
.
Want the latest news from Portlandia? Like them on Facebook and follow them on Twitter@ifcPortlandia and use the hashtag #portlandia.
Portlandia returns to IFC with Winter in Portlandia on Friday, December 14th at 10:30/9:30c