Portlandia's Fred Armisen interviews J. Mascis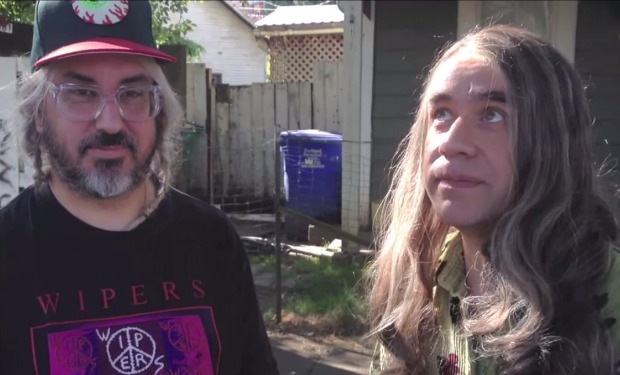 Portlandia's favorite feminist, Candace, interviews J. Mascis of Dinosaur Jr.
We love Dinosaur Jr. and it's iconic frontman J. Mascis (feel free to go watch his performance at our house at SXSW 2011 when you are done here). We also love Portlandia. (Duh.) So we were thrilled to find out that Candace (aka Fred Armisen), of Portland's fine feminist bookstore, Women & Women First, got a chance to interview the notoriously reticent singer about his band's forthcoming album, "I Bet On Sky," which comes out September 18th. As you can tell by their dynamic rapport in the rather illuminating and not at all awkward interview, these two are old friends. They met when J. Mascis showed up during Portlandia The Tour last year. That explains their chemistry. Now hopefully Toni (Carrie Brownstein) won't get too jealous when she sees this.
Want the latest news from Portlandia? Like them on Facebook and follow them on Twitter@ifcPortlandia and use the hashtag #portlandia.
The third season of Portlandia comes to IFC in January 2013
Tags:
Candace
,
Carrie Brownstein
,
Dinosaur Jr.
,
feminist bookstore
,
Fred Armisen
,
J mascis
,
Music
,
Portlandia
,
What to Watch on IFC
,
women and women first
---
---
---
Powered by ZergNet
---