The Results Are In, and "The Most Portland Thing Ever" Is…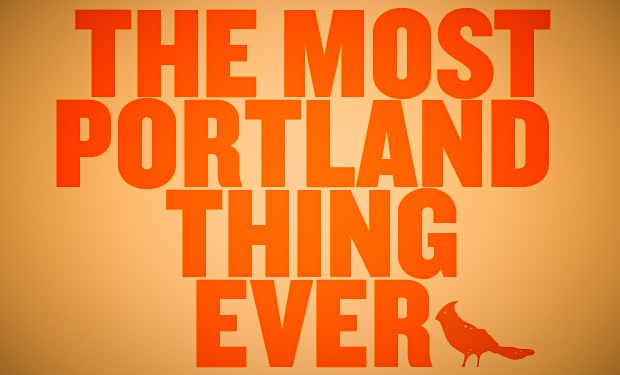 Posted by Claire Evans on
Remember earlier this month when we asked you to comment on this blog (and our sister Facebook page) with stories of your Most Portland Ever experiences? In a week, we received well over 400 submissions, which ran the gamut from sordid tales of vegan stripclubbery to hijinks of personal hygiene, from picky vegan bums to naked bike riders. It was incredibly hard to pick the winner, so instead we chose five submissions for our local illustrator, Nicole Georges, to tackle. We'll be posting them daily, along with the original stories that inspired their comic-ifications.
First up, commenter Bonnie Nicol's amazing tale of late night Live-Action-Role-Play:
Check out the original story below:
It was around 1 or 2 in the morning, I was hanging out by the waterfront near the Burnside Bridge. I was a little nervous…it's not the best area to be after dark, but I was in a contemplative mood and didn't want to go back to the hostel I was staying at. Suddenly I heard people approaching and made the fear-induced decision to leave immediately. I turned to go and behind me were two guys dressed in poorly constructed medieval garb, wielding bent and limp cardboard swords. One of them even had a crookedly cut cardboard shield. The guys were either incredibly intoxicated or incredibly high. Or a combination of both. The three of us just stared at each other for a minute, no one moving, no one sure what to do or say, then the one with the shield broke the silence with, "Be gone from here, woman! This be a dangerous place!" He had a point, so without a word, I walked around them and headed back home. Before I walked out of sight, I turned around at one point and saw the guys staggering around in an "intense" cardboard sword fight.
Nicole Georges is an illustrator, educator, and graphic novelist based in Portland, Oregon. Her self-published autobiographical zine, Invincible Summer, has been anthologized in two volumes. She teaches self publishing and autobiographical comic workshops to children and seniors, and her first graphic novel will be released this year with Houghton Mifflin. Also, she does pet portraits.