"Portlandia's" Jonathan Krisel answers fan questions on IFC SYNC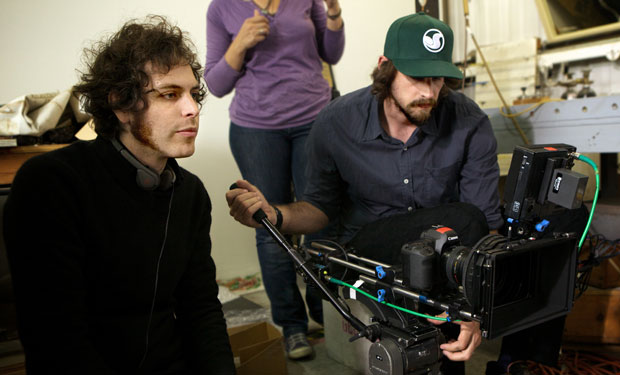 Posted by Will Weinand on
This past Friday, "Portlandia" writer, director and co-creator (and sometimes performer) Jonathan Krisel joined viewers live on IFC SYNC: Portlandia to answer fans' questions about the show. For those who couldn't make it to the chat, you can read all of the submitted questions and Jonathan's answers below.
Don't forget to log in to IFC SYNC this Friday, March 2nd at 10/9c when our special guest, Kyle MacLachlan, will be joining us for our next fan Q&A.
---
Whose idea was it to use the "Washed Out" track for the theme? It's one of my favorite elements of the show.
We were talking about the theme one day. The idea was that Fred and Carrie would record it. Fred brought out the "Washed Out" track as a reference. It was so good. We tried to top it and couldn't. We did the pilot with it and I just decided we had to have it. Luckily the dude from Washed Out was cool and we got to use it. We really wanted to set a tone that was unlike other comedy shows. It wasn't in your face rock and roll. It wasn't in your face comedy. It was Portland comedy. it was mellow.
Carrie is one of my favorite musicians, but who knew she was a great comedy actor? Did she take extra work?
Carrie has always been an amazing performer. I saw Sleater Kinney perform back when I was in college. After I first met her, my sister reminded me how Carrie does the Pete Townsend windmill when she plays guitar. She is very vibrant on stage. Which for the indie rock era was not the norm. What I am trying to say is that she is down. She is ready to go for it. That fearlessness means that she can get really good at her craft. She had done some acting in a film right before we did Portlandia so she knew the drill. She was comfortable on set. I think her biggest asset was staying real. That's soooo hard to do. She has really grown a lot since we started though. She has much more confidence. I think it is
Are each of the sketches already scripted? Or is a lot of it improvised?
They are all outlined, some more scripted than others, but most of the dialog is improvised. We kind of go and go until we hit on something funny on the day, then we exploit that and stick with that. "aoriver!" was not in the script. Once that came out of Carrie's mouth, I reworked the whole scene to be about that. One my favorite scenes as a result.
What is your favorite thing about Portland?
Portland is utopia. My favorite thing would be it's earnestness. I am earnest too.
Who wrote the "Camp Song" for the episode with Andy Samberg episode…. its my favorite. I love it.
I wrote that song with my friend Davin Wood making the music. We also did "Dream of the 1890s."
How many sketches per episode are deleted, on average?
I think we had 5 duds for the season. They will end up on the DVD.
What was the first sketch written for the show?
Hard to say. The idea was there for Put a Bird on it very early. Carrie had that idea, which is brilliant, I had had a similar idea for a sketch on Tim and Eric called spray paint a raven on a shirt. I knew I wanted to do it as a weird commercial.
I am writing from Melbourne, Australia. Your humour is equally funny here! Does that surprise you?
I am huge fan of Australian comedy. Strictly Ballroom is one of my favorite movies. Definitely the British Commonwealth's sensibility is where I draw a lot of my influences.
Is it weird that I have the urge to start a hide and seek club?
It was bound to happen. Someone asked me if it was real.
Is the feminist bookstore still open in Portland?
Yes. It's a great place, but I am constantly putting my foot in my mouth when I am there because it is so funny.
Are the addresses real?
Most of the time, yes. Some of the private residences I change.
Portland's mayor seems to be a real sport with his supporting role; does the city embrace the show?
Definitely. The mayor has been great. The city has been great. I want to do all of my work in Portland.
Jon, If I mailed you a pair of awesome bike shorts, would you put a bird on it or pickle them?
Duh.
Who came up with the whole "Put a bird on it" joke?
Carrie.
Will Isaac Brock ever grace the show with his presence again?
Maybe. He was awesome to be on the show. We are all big fans.
Now that the show is a huge success, who has the biggest trailer: Carrie or Fred?
They share one trailer. An RV. It's a very small intimate family on set.
How did you get LaMarcus Aldridge for the show?!!
We knew we wanted a Trailblazer. Penny Marshall is friends with Marcus Camby, but at the last second he had to bail because his wife was having a baby. Good excuse. On of our producers tracked down LaMarcus through his network of friends in Eugene. Weird. He was awesome!
Who thought of the idea for Fred and Carrie to switch genders for Nina and Lance?
That was my idea. When we were writing it, I thought the female character was a little too timid to be played by Carrie. Fred seemed to have the voice of the girl down when he was pitching lines for her to say. I knew that I would lower Carrie's voice in editing so I made sure they never spoke at the same time. I think that sketch is the funniest one of the series.
I quit my job as a mixologist after you guys tore me apart. What career path would you guys NEVER attack?
No one is safe. I don't think we tore mixology apart. Other professions yes. My wife is an amateur mixologist right now, making drinks every night. I love awesome mixed drinks. We went to a great place in Chicago where the bartender talked about making her own bitters at home. That ended up in the show.
Who's kid was Grover? That is my favorite sketch to date.
He was a local actor with a twin brother. What you see in the show, with his head down looking really sad was real. He hated filming.
Any plans to do a donut sketch? (I'm thinking of Voodoo)
We did. "I'm a little guy."
Is it socially acceptable to drink PBR in Portland?
Yes. On tap.
How long does it take to gather up and experiment with enough ideas to start filming?
Takes about 3 months to write the season.
When are you going to have "Portlandia" visit the Oregon coast?
Good question. I visited the coast last year, it's pretty beautiful.
Is it hard to schedule shooting due to Fred being on "SNL"?
We shoot during the summer when he is off.
Anything awkward ever happen while filming the show?
People have yelled "F@*k Portlandia" sometimes when we are shooting. It's kind of awesome.
Has Portland inspired you, beyond just doing the show?
Definitely. I would love to live there.
I've always wondered what the folks who work at In Other Words think of their "Portlandia" counterparts?
I think they think it's funny. I think they have a good sense of humor about the whole thing.
Do they over recycle in Portland? Is it possible to recycle too much?
There is no recycle too much. That's an oxymoron.
Will there be another season with more cast from "SNL"?
I hope so.
Will there ever be a "Portlandia" movie?
I really want to make a movie with Fred and Carrie for sure.
Do you know what your Myers-Briggs personality type is?
No.
Is there any other city/place you would like to write a sketch like this for?
Not really. Portland is my favorite city of these. I have a much more personal connection to it. I grew up visiting it during the summers. To me it seems like the one place that never looked for outside approval, it never wanted a show, but it got one anyway. It's super special.
What questions do you have for the people behind "Portlandia"? Tell us in the comments below or on Facebook or Twitter.